Football sweets and treats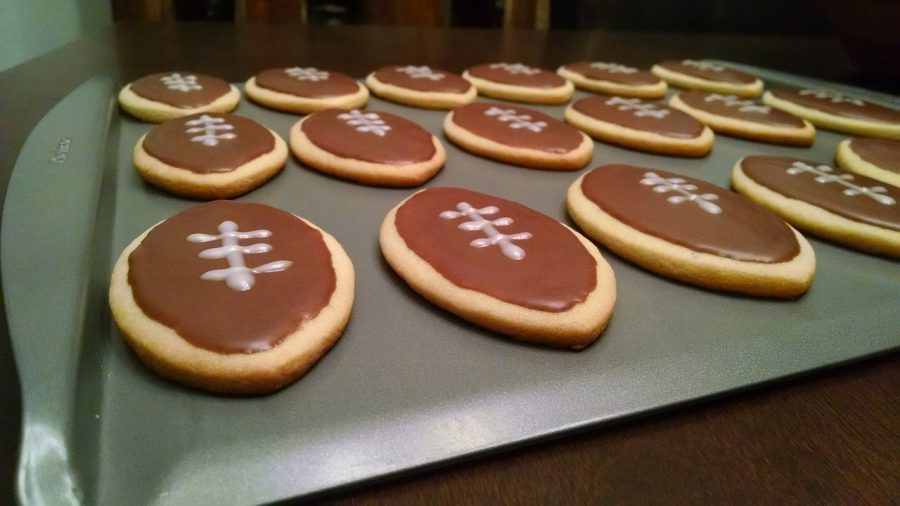 Virginia Fielder, Editor-in-Chief
September 14, 2018
It's football season all over Texas and everyone knows what this means: Friday night lights, cheerleaders in glittery skirts, hotdogs and popcorn, loud cheers, flashing scoreboards and of course Highland Park Football Girls. Football girls have been a tradition in Highland Park for more than fifteen years. It's a great way for girls to show the high school football team some support by baking an assigned player some sweet treats and making a poster.
Every single football player on Varsity and Junior Varsity gets one or more football girls. Senior and junior girls all write down six football players that they want to bake for and hope they get their requested player. Normally girls partner up, but others opt for the solo option. The girls have to pay twenty dollars to participate in order to pay for their specialized football girls t-shirt. The t-shirt design changes from year to year, but it always has the current football slogan and the girls' player's last name and football number on the back.
"The football girls' t-shirt is just one of the perks of being a football girl," senior Ashley Wallace said. "I like this year's shirt the best because it's navy. This one is also a lot softer than last year's."
Baking is the main focus of football girls'-and the most fun. Girls also show up to their player's house with a range of recipes. In the past girls have baked cookies, cakes, brownies and cupcakes. Some have even brought homemade rice krispie treats, while some opt for just showing up with What-A-Burger.
"My favorite thing to bake for my football boy is cupcakes," said Wallace. "It's a pretty simple recipe and hard to mess up. I really like the part where my partner and I decorate the cupcakes."
Many of the girls frequent Pinterest to find creative and quick recipes for their football boys, as well as ideas for their posters. Football girls' continue their work as long as football season lasts, bringing posters and a baked treat for every game. Posters normally have a catchy phrase dealing with the opposing team. For example, during the week of the Mesquite game, posters had signs saying "Mow over Mesquite" in order to encourage the football players.  
"I'm not the best artist, so I try to make my posters really funny," said Wallace. "Since I am friends with my football boy I just put inside jokes on it. He always loves them."