Maybelline Mascara Soars On TikTok
New mascara gains popularity through social media
Maybelline's new mascara, Maybelline New York Lash Sensational Sky High Mascara, was released to various websites when the pandemic hit and started to blow up on TikTok.
You can find the mascara in Ulta, Target, Walmart, Walgreens and more.
"I found the trend on my explore page on TikTok and saw a review on it," freshman Rosemary LeBlanc said. "I found out they made your lashes really long."
Since stores were shut down due to the pandemic, the mascara was released to multiple websites, including Ulta Beauty's website, for $11. When the mascara went viral on TikTok, the trend caused the mascara to sell out on Ulta Beauty's website on four separate occasions.
"I love this trend," freshman Courtney Wilson said. "I really wanted to buy it because of all the posts I've seen about it."
The mascara comes in a pink tube with two different shades to choose from, Blackest Black and Very Black. The mascara was explicitly made to increase the length and volume of lashes. The mascara has an Exclusive Flex Tower brush, making it easier to volumize lashes from the root to the tip, and is very easy to wash off because of the infused bamboo extract.
The central aspect of this trend was how TikTok users created the looks of before and after as they used the mascara to show the dramatic change. This change in other users' lashes caught other viewers' attention, causing it to interest people on how they could get their hands on the mascara. This chain reaction of events led to the mascara to become a viral sensation.
"The pattern I have seen with this is a positive chain of advertisement," LeBlanc said. "So far, I have seen no negativity towards the product. I can't tell if this product is truly indispensable or a scam. However, I still like the trend."
The Maybelline Lash Sensational Sky High Mascara has been a rising trend that has been supported by lots of promotion and genuine interest in the fullest lashes.
About the Contributor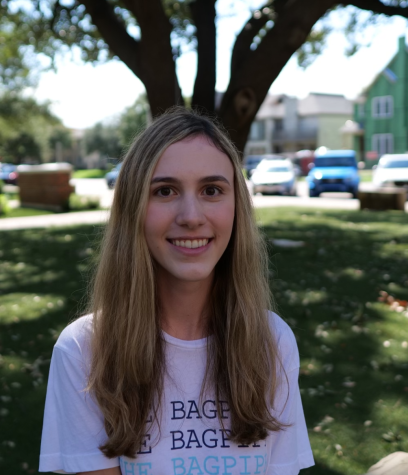 Elle Polychronis, Copy editor
What do you do when you need to relax?

I like listening to music and hanging out with friends

What are you most excited for in newspaper this year?

I'm excited to get to know all of the newcomers and take charge of my new editor position!

What is your zodiac sign?

Virgo