Review: LaVui Executes Incredible Vietnamese Cuisine, Service
New restaurant perfect for family walk-in dinners
LaVui's excellent food and personalized service are an enjoyable experience for the whole family, now becoming one of my family's favorite restaurants.
I first heard of LaVui through Oishii's Instagram story when they showcased its opening on Sept. 1 at 5321 Maple Ave. 
Oishii is a sushi restaurant that my family and I are very fond of. They currently have two locations and decided to open up LaVui as a separate restaurant, not a part of the Oishii chain. 
When I found out about this opening, I knew I had to see the restaurant for myself.
I wanted to schedule a reservation because I knew Oishii always accepted them. I called LaVui and the server said that they were more of a "walk-in place."
In a polite and cheerful tone, she scheduled a reservation for my family at 7:30 pm anyway, despite not usually taking reservations. 
Sure enough, there was a table of four waiting for us, just like she promised. The small diner had only a few tables and everything looked cleanly sanitized.
I had looked at the LaVui menu online beforehand and had decided on the fried egg rolls for my appetizer and the meatballs and rare beef pho noodle soup for my entree. 
My family and I went up to the counter to order and wait for our food, as the kitchen started to smell of Vietnamese cuisine.
The grilled beef tenderloin, handmade dumplings and grilled chicken are some of the most popular dishes, according to the chef.

The food came out quick, yet it seemed like they took their time making sure the food was great and what they wanted their customers to experience.
I noticed that the chefs didn't try to rush us, which was nice compared to the treatment I've experienced at most restaurants. It was nice being able to take my time as I ate my food and savor the wonderful flavors in my mouth. 
The egg roll was split in half, showing that everything inside was finely diced. The meat inside of the egg roll was something my mouth could sink into perfectly. The pork and shrimp tasted deliciously chewy. While the meat was dry, it had a nice contrast with the sauce.
The fish sauce added a sweet flavor to the meat, moistening it to make its flavor shine through more. The sauce tasted like honey when paired with the dry egg roll.
The outside shell of the wonton was crispy, almost like tempura. It made a loud crunch noise and it had a simple breaded flavor to balance the contrast of the meat and sauce.
Then there was the pho, which I was really excited about. I could see it steaming and I decided to dig for the noodles with my chopsticks.
The noodles were silky smooth and had drops of the broth still on them. They tasted a little plain, but that was to be expected.
The broth tasted like the juice inside of a steak. I didn't scoop out any with the spoon because the broth soaked into the noodles so well. It was like tasting the broth and noodles at the same time.
The meatballs and steak smelled just like the intoxicating broth. The meat was a bit dry, but that was because the meat had been rare beforehand and had been cooked by  the broth.
The pho was so filling that I wasn't able to finish it. Everything tasted so good, especially when I thought about how cold it was outside. I was extra thankful for the delicious hot meal to warm me up. 
Throughout the time I spent enjoying my meal, my family also had satisfied looks on their faces. Even though all of us were tasting drastically different things, we all shared the same sense of pleasure. 
The service was everything I could ask for. The staff was reliable when we had questions and they were always polite and energetic. Everyone seemed so happy and content with their food. 
LaVui was a lovely hidden gem, and a new restaurant my family and I can go to for dine-in and take-out safely. 
About the Contributor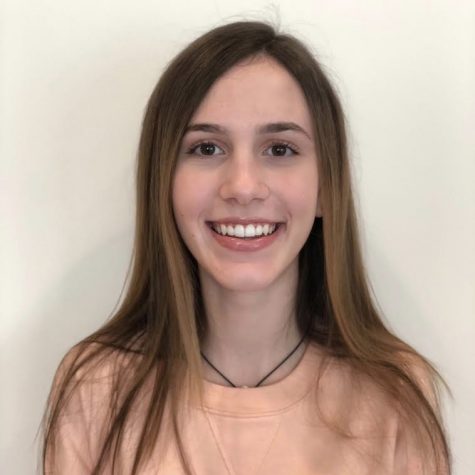 Elle Polychronis, Reporter
What will you see her ordering at Starbucks?
Her Starbucks order is a Strawberry Acai Lemonade with a birthday cake cake pop.
What does Elle want to be when she grows up?
Her dream job is a lawyer.
What is her favorite dad joke?
Her favorite dad joke is, "Dad, I'm hungry. Hi Hungry, I'm Dad"