Coronavirus Causes Restaurants To Crumble
Restaurants around country are shuttered due to coronavirus.
The coronavirus has restricted common activities like traveling, being within 6-feet of your classmates and, of course, going to crowded restaurants.
Restaurants have been closing down since the beginning of the pandemic. In June, Yelp reported 57,000 of the restaurants on its site have permanently closed. Restaurants around the country have been suffering, and it's no different in the Park Cities.
California Pizza Kitchen, located in Preston Center, announced on July 30, it filed for bankruptcy after a 27-year long run. Other restaurants that have shut down around town due to the pandemic are Rock N' Roll Sushi, Snuffers, Bartaco, Peggy Sue Barbecue, Unleavened, Five-Sixty at the Reunion Tower and Digg's Tacos. Some restaurant businesses that haven't closed permanently have closed off locations in different areas like Asian Mint and IHOP. The charity-based Highland Park Cafeteria has also closed.
"I think it's really sad," freshman Daisy Murphy said. "So many of these great businesses that I loved supporting have been shutting down."
The supporters of these restaurants couldn't go anywhere for a few months due to being quarantined, which heavily affected the restaurants. Restaurants had to quickly make adjustments and rely more on online ordering and takeout, but for many of these businesses, there still wasn't enough profit.
Although restaurants are still able to serve customers, it's a completely different landscape from how restaurants operated before the pandemic.
"We [at Hopdoddy] follow a comprehensive sanitation protocol regularly in all of our restaurants," Hopdoddy said on the homepage of their website. "If we have a team member test positive, we systematically conduct deep cleaning sanitation of the restaurant overnight. We notify team members that worked with the individual who tested positive and have them get tested."
Once restaurants were able to start seating people, Gov. Greg Abbott implemented specific percentages of people allowed inside restaurants. On April 27, Abbott required restaurants who decided to reopen to only be at 25 percent capacity, and on June 29, it was raised to 50 percent. On Sep. 21, Abbott allowed restaurants to host at 75 percent capacity, which stayed in place until this Wednesday when that number was taken back down to 50 percent in the wake of a surge in coronavirus cases.
"I think it's a smart move because if we let the normal capacity into restaurants, more people will catch the virus," freshman Jessica Wu said.
While this may be smart from a public health standpoint, it's still affecting profitability.
Still though, there are some restaurants that have been successful and doing well. Nevertheless, coronavirus has still has still forced these businesses to adjust to ensure safety for both their employees and customers. Tyler Dyer, the CEO of the Mesero Restaurant Group, is optimistic about his group's response to the pandemic.
"We've had excellent strides over the course of the past four to six weeks," Dyer said. "In reality, we are all entering new territory. We try to do our best, and sometimes it can be frustrating. We are all dealing with some big challenges. We are all adjusting to the world we live in. Supporting establishments and understanding is a big part of a supporter's job."
About the Contributor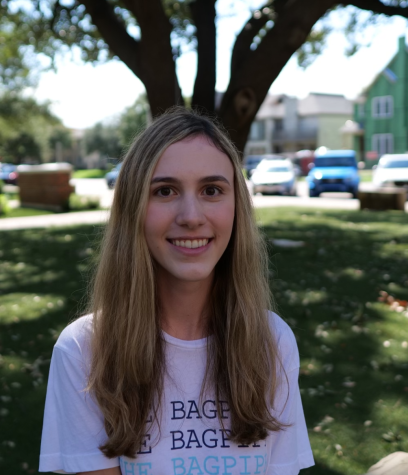 Elle Polychronis, Copy editor
What do you do when you need to relax?

I like listening to music and hanging out with friends

What are you most excited for in newspaper this year?

I'm excited to get to know all of the newcomers and take charge of my new editor position!

What is your zodiac sign?

Virgo