The end of a great season
Girls varsity soccer falls to Wakeland after an undefeated season in district
Hang on for a minute...we're trying to find some more stories you might like.
Highland Park is notorious for its elite sports teams, and girls varsity soccer is no exception. Undefeated in the district, the Lady Scots scored 76 goals throughout district play and only allowed four goals. Their win against Forney High School on March 9 allowed them to win the district championship, and started the Lady Scots on the road to playoffs. After a strong playoff run, the Lady Scots fell to the Frisco Wakeland Wolverines in the region two final at Standridge Stadium on April 14.
"Going into playoffs, we all knew we couldn't get too ahead of ourselves," senior KK Webb said. "We had to focus on the next game and nothing after that."
The Lady Scots faced Pine Tree High School in round one of the playoffs in a bi-district matchup at Tyler Junior College on March 29. The Scots emerged victorious, with goals from senior Sarah O'Neal, senior Rachel Wasserman, sophomore Presley Echols, senior Frances Ann Matise and senior Katherine Wolfe to make the score 6-0.
Round two of playoffs was held on April 3 at Wildcat Ram Stadium at Lake Highlands High School against McKinney North High School. Sarah O'Neal led the Lady Scots to victory with a hat trick, and the Scots defeated McKinney North 3-0, sending them to the regional quarterfinals versus 2016 5A state champions Frisco Centennial High School.
The Scots fought in an intense game versus Centennial on April 6 at Eagle-Mustang Stadium in Richardson. Multiple rain and lightning delays made for harsh conditions, and the Scots went into overtime with the score 2-2. After two 10 minute periods of overtime, the Lady Scots rallied and won the game 4-2 with goals from Wasserman, Matise and Echols.
The soccer girls faced Midlothian High School in the regional semi-finals on April 13 at 10 a.m. at Standridge Stadium, however, the game kicked-off at 11 following a weather delay. With many students watching the live stream throughout the school day, the Scots defeated Midlothian 3-1 with goals from Echols and Wasserman.
The fifth round of playoffs was between HP and the Frisco Wakeland Wolverines on April 14 at 10 a.m. at Standridge Stadium.
"We knew this was going to be a competitive game, and we went into it focused and wanting to have a high intensity from the beginning," sophomore Ryan Bozman said.
The Scots finished the first half of regulation 1-0 with a goal from Echols. A goal from Wasserman on a penalty kick in the second half and two goals from Wakeland tied the game up 2-2, leading both teams into overtime. After two ten minute periods of intense play, neither team managed to put one in the back of the net. A penalty kick shootout ensued, with senior Ginny Hoy in the goal for the Scots. Ultimately, the Scots fell 4-2 in the shootout, and Wakeland advanced to the state tournament in Round Rock.
Although the Lady Scots' playoff run was cut short, they will never forget the relationships they forged.
"It's been amazing to be a part of this team, and I will always remember this season," Bozman said.

About the Writer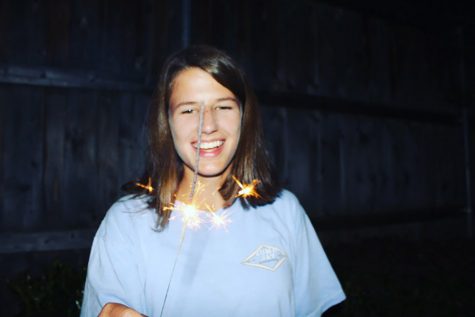 Kate White, Section Editor
Current Grade Level:
10
What is your position on the Bagpipe:
Section Editor
What is your go-to snack:
Pirate Booty
What is your favorite tv show to binge watch:
Criminal Minds
In what are you involved at HP:
Soccer
What is your dream job:
Scientist
How would your friends describe you:
Funny, smart and kind
What is your favorite song or style of music:
Anything Ed Sheeran
What is a fun fact about yourself that not everyone knows:
I am a vegetarian.
Where is the coolest place you have visited:
The US Virgin Islands
What is your ideal pet:
I would like to own every type of dog simultaneously.
What is your favorite class this year:
Bagpipe
Where do you want to go to college:
UCLA
What is your favorite news source:
WFAA
What is the best piece of advice you have received so far:
"Listen to instructions…"
If you could attend any major event, which would you choose:
Another Ed Sheeran concert