Theater Performs Shrek The Musical Via Live Stream And In Person
Adjustments were made during musical production due to coronavirus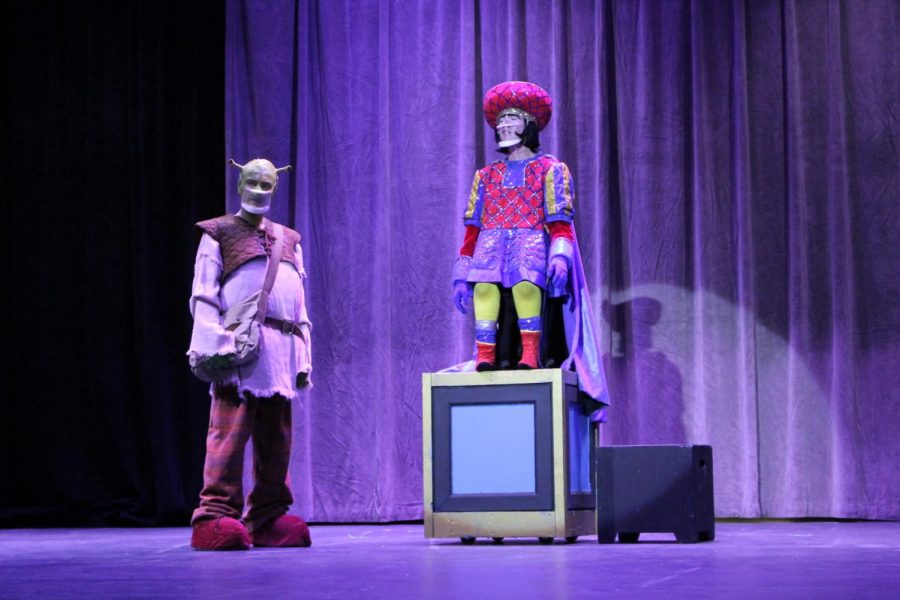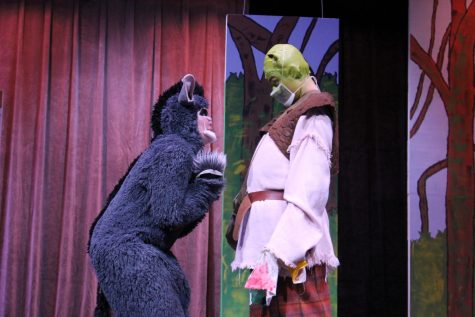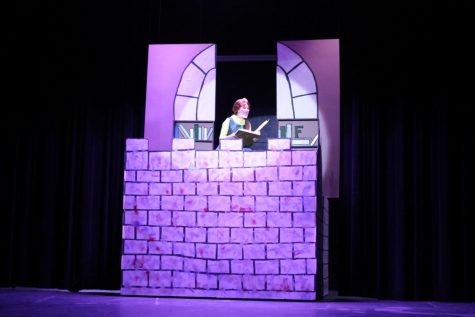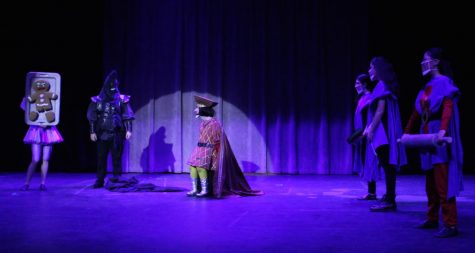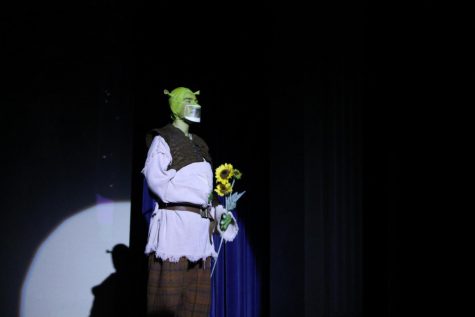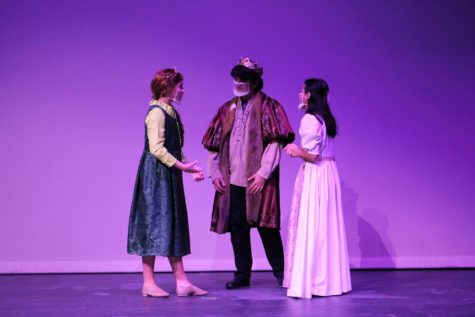 Before theater rehearsals were filled with a close-working crew, loud voices of actors and parent helpers, but now it's clear masks, the scent of cleaners and a set distance between actors.
The theater department has had to make adjustments to promote a safe environment for their performance of Shrek the Musical. This performance was supposed to take place around late September. It was performed in person and on a livestream.
"A lot of us had a feeling that it wasn't going to happen because of COVID, but then we were all glad that we were actually able to do it unlike other schools," junior Sophia Anderson, who played a Duloc Knight said.
Along with adjusting to the coronavirus in early September, Tyler Perring became the new theater technical Director after Christine Hathcock, the former director left. He started to work on the musical and technical production of Shrek the Musical with the cast.
Auditions for the musical started in May, and students submitted video auditions on a Google Classroom. This Google Classroom is now where updates and cast information is posted. Around 50 people made the auditions and were confirmed for the cast in Shrek the Musical. However, the cast went down to about 31 as the pandemic progressed.
"I really enjoy the people," sophomore Greer Manley, who played Pinocchio, said. "It's a bunch of my friends and we get to mess around and we get to do a thing we love. It's a great community."
The cast did rehearsals in person and maintained certain protocols that differ from the norm.
"We wear clear masks that are normally used for surgery," Perring said. "We broke apart the cast into groups so that there aren't too many students on stage, and Students are asked to frequently put on hand sanitizer, mainly when they aren't on stage."
The rehearsals usually went from 6 p.m. to 9 p.m. to run everything through thoroughly.
"We were working on blocking and specific scenes till around 8:30 or 9 p.m.," Perring said. "We then started running through the whole show. At the end of rehearsal, I give the students notes of things that they might need to work on."
In early November, the high school opened purchasing of tickets for Shrek the Musical for Thursday, Nov. 19, Saturday, Nov. 21 and Sunday, Nov. 22 and included payment options for the live stream.
The production for Shrek the Musical started around late August and it ended in mid-November when the musical was performed. The audience for this performance got cut in half because of the social distancing procedures.
"It's not about the amount of people, it's just how we tell the story," Perring said. "As far as purchasing the live stream goes, the company Music Theater International owns Shrek as one of their properties so we were able to get the live streaming approval from them."
Perring carefully planned a safer environment for Shrek the Musical, as well as getting fully involved in the production. With this safer environment, it made it possible for a showcase in front of a real life audience as well as a virtual audience.
"Getting to do the musical is a huge thing," senior JP Berry, who played Shrek, said. "There is a great message in the overall show. There is this one line that our Music Director, Ms. Walker, pointed out to us that appeared in the last act. The line is 'You are us and we are you,' and it's great because it is about coming together no matter who you are and saying that we are all equal."
About the Contributor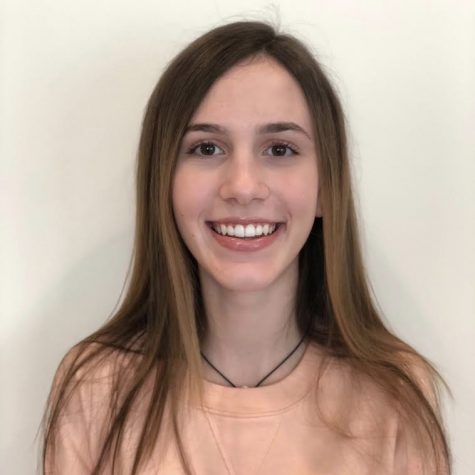 Elle Polychronis, Reporter
What will you see her ordering at Starbucks?
Her Starbucks order is a Strawberry Acai Lemonade with a birthday cake cake pop.
What does Elle want to be when she grows up?
Her dream job is a lawyer.
What is her favorite dad joke?
Her favorite dad joke is, "Dad, I'm hungry. Hi Hungry, I'm Dad"