The Logan Effect
Hang on for a minute...we're trying to find some more stories you might like.
Tween-aged children are always flocking to one trend after another. There was Justin Bieber, One Direction, fidget-spinning and other fads that fizzled out as soon as they appeared. Recently, kids have been drawn to popular Youtube vlogger (video-logger) Logan Paul, who makes daily videos of his day-to-day life (although nothing about his days are regular). Millions of kids, in fact; 16 million tune in to his content every day, burning his often immature, sporadic antics into their brains.
Most of his videos have steered away from anything too controversial or problematic, that is, until recently. On New Years' Day, Paul uploaded a video of him and his friends venturing into the Aokigahara forest, better known as the "Suicide Forest" for its high number of suicide victims found in the area, and discovering a recently-deceased body up close while behaving disrespectfully.
Before the video was removed from Youtube almost a day later, millions had already viewed it, and it had made it onto the trending page of the website, bringing it to an even larger audience. Many social-media users took to Twitter to express their discontent with the vlogger, explaining how his video was very disrespectful to suicide victims, their families and survivors. Controversy also arose from how his mostly-child audience had been subjected to the trauma of suicide through the video, and how that type of content was inappropriate for his demographic. Paul quickly apologized, although most left him unforgiven.
This unfolding of events brings forward an observation that needs to be recognized. Youtubers, social-media influencers and other forms of internet celebrities are all similar in most ways. They are young people who have found sudden fame and have a dedicated audience of impressionable children. While this is clear to most of them, they often find themselves wrapped up in the statistics and profit they can draw from their content and not the effect it can have on the people who consume it.
Logan Paul is a prime example of this. Almost all of his videos attempt to grab his watchers' attentions with a dramatic, misleading title, and his videos are over-saturated with promotion of his merchandise.
After posting daily for over a year, his videos had only gotten more and more ridiculous and money-hungry. His advertisement-heavy content donned the facade of entertainment, further manipulating his young audience into buying his merch, and he became more and more ignorant to the ramifications of his actions. This, of course, led to him filming a discovered corpse up close. Guess what he was wearing while he nervously giggled and made jokes standing not 10 feet away from the body? A Logan Paul sweatshirt.
Parents need to pay close attention to what their children are watching and reading on the internet. The wide-web allows content creators to post whatever they want and gives everyone access to it, including kids who may stumble upon a video that could possibly scar them for life. Parents and Youtubers alike need to ensure what children are watching is appropriate, and that it's not aimed to manipulate them.

About the Writer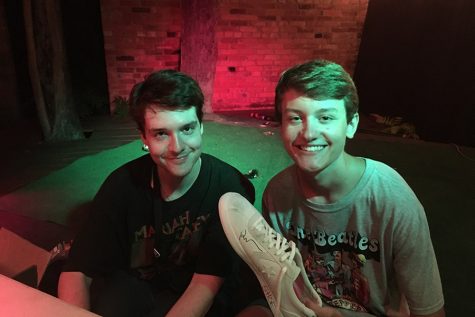 Will Roberts, Editor-in-Chief
Current Grade Level:
12

What is your position on the Bagpipe:
Editor-in-Chief

What is your go-to snack:
Smoothies

What is your favorite tv...