New Scots On The Block Orientation Changes Freshman Year Outlook
New orientation helps freshman adapt to high school routine
The first annual New Scots on the Block freshman orientation, created by assistant principal Troy Gray and 504 coordinator Daphne LaMontagne, started Aug. 23 during fourth, fifth and sixth lunches in the library. 
The new orientation spans across Monday, Tuesday, Wednesday and Thursday and into two different classes, class A and B. The purpose of the orientation is to prepare freshman students for the next four years of high school.
The classes are led by Gray, the other administrators including principal Jeremy Gilbert, the counselors and LaMontagne. Each session is roughly 15-20 minutes long, and students are released back to lunch once their session is over.  
"We've kind of found that that is a perfect time because it gets everyone in," Gray said. "They report to us at the beginning of their lunch period before they go through the cafeteria line. We release them back to the cafeteria, the lines are already down, so they can get in [line] and have plenty of time to eat their lunch."
The orientation covers what students need to know to be successful in high school – including what to do if they need help, if they have a zero in a class, if they forget to turn in an assignment and if they get lost or overwhelmed.
"We've [also] learned who our counselors are and how to use Skyward to check grades and the Skyward calendar," freshman Catherine Stanzel said. "We [have a] Google Classroom for the orientation. We sit down and listen to [multiple] speaker[s] give a presentation."
The orientation was created to help make the transition from the middle school to the high school more manageable. 
"One of the things that was consistent every year was that freshman, more than any other grade level, seemed to collectively have the hardest transition," LaMontagne said. "So we sat down two years ago and looked at the things that were common across the board."
Common issues included the workload, time management and stress.
"
I think that [the orientation] is going to be very valuable and something that just gets bigger and more significant every passing year."
— Daphne LaMontagne
"[We] tried to figure out a way that we could reach as many freshmen as possible," Gray said. "I was a former middle school principal, and as a middle school principal, I always worked with eighth graders transitioning into ninth grade. It's always been a passion of mine to work with that age of kids and really work with freshmen as they are coming into high school."
Gray and LaMontagne approached Gilbert about possible ideas for the new orientation program, and he approved it. Once it was approved, the New Scots on the Block orientation was set in motion with the goal of lasting at least eight weeks.
"We've come together with the library staff, the counseling staff, the administrative staff, department chairs and special program staff and we've all brought to the table the things that we think are important," LaMontagne said. "I feel like each one of us has a different perspective when we work with students for different reasons. [Jeremy] Gilbert's perspective on this paired with [Troy] Gray and my interest to streamline our communication with freshmen, it just all came together perfectly from the start of the school year."
The administration has seen positive responses from students since the start of orientation including a change in their demeanor.
"The change I've seen so far is just the level of comfort," Gray said. "When they first come in, and the assistant principals are teaching the class, it's a little intimidating. The students were definitely nervous and afraid to ask questions, but I've noticed since we've started week two that they are starting to open up a little bit more and ask questions."
Gray and LaMontagne both feel the orientation has had a significant impact on the freshman students' high school life. LaMontagne believes that with the right amount of support, each student is capable of succeeding.  
"I think that [the orientation] is going to be very valuable and something that just gets bigger and more significant every passing year," LaMontagne said. "I think it's really about giving all of our freshmen the best start to their next four years."
There is a possibility of a sophomore enrichment orientation for sophomores who were virtual last year, but it hasn't been initiated due to scheduling issues. However, the New Scots on the Block orientation will continue in the following weeks and the school years to come. 
About the Contributor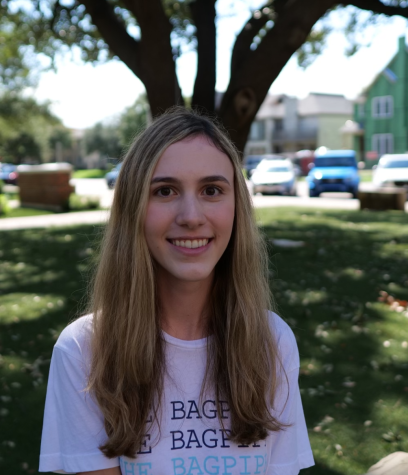 Elle Polychronis, Copy editor
What do you do when you need to relax?

I like listening to music and hanging out with friends

What are you most excited for in newspaper this year?

I'm excited to get to know all of the newcomers and take charge of my new editor position!

What is your zodiac sign?

Virgo