Review: Coronavirus Vaccine Available For Teens
Reporter reviews experience receiving vaccine
Texas first started coronavirus vaccinations to a limited population of healthcare workers in December 2020. Months later, as of March 29, all Texans 16 and older are eligible for a vaccine.
With the expanded eligibility, however, comes expanded demand. Lines for the vaccines have gotten much longer and it can be difficult to make an appointment online without the slot getting snapped up by another eager Texan.
I received my first dose of the vaccine during spring break, which was slightly before it became available to the general public, and the spots were not always abundant even then. Depending on when and where I checked, it seemed like the entirety of Dallas was barren of vaccines.
To make matters worse, I was under the assumption that to get a vaccine, you had to sign up through a county government form or go to a state-sanctioned vaccination hub, like a hospital.
However, my mom informed me that it was actually possible to make an appointment directly through CVS. Other "retail pharmacies," as they're referred to by the government, have vaccines as well: Walmart, Walgreens, Tom Thumb and Kroger all may have vaccines, though availability will vary. These establishments post the availability status of their vaccines on their websites.
A vaccine locator for Texas and one for the nation are available online as well. It doesn't matter where you go to get a vaccine: as long as you're in Texas, you can register anywhere.
Another option, if you have the time, is volunteering. The major vaccination hub at Fair Park in Dallas will provide vaccines after at least 10 hours spent volunteering at their site.
The three brands of vaccines you will encounter are Moderna, Pfizer and Johnson & Johnson. If you are under 18 but at least 16, like I am, your only option is Pfizer because that's the only vaccine that's approved for your age range at this point in time.
One other useful distinguishing factor is that J&J is a single-shot vaccine, while Pfizer and Moderna both require you to receive two doses several weeks apart. If making space for two separate vaccine appointments would put a strain on your schedule, consider the J&J vaccine.
The efficacy rate for preventing symptomatic illness is 94% for Moderna, 95% for Pfizer and, in the United States, 72% for J&J, though it varies by country. These rates are based on clinical trials that were conducted under different conditions and so may not be directly comparable. All three vaccines are very effective at preventing hospitalizations and death.
For this reason, ultimately, the best brand of vaccine is the one you have access to. For me, that was Pfizer. When you have any workable opportunity to get a vaccine, it's best to avoid any hemming or hawing and just run with it.
I found my own vaccine through the CVS website. CVS allows you to find each location that has a vaccine, and make an appointment for the first and second doses free of charge.
CVS tells you to bring an ID and an insurance card. I checked in at a desk at the front of the store, before lining up at a corner at the back of the CVS to receive my vaccine.
If you have ever had a flu shot in CVS, the experience is practically the same. In fact, the location I arrived at seemed to have taped a paper saying "COVID-19" over the part that would ordinarily say "flu" in their sign designating the shot area.
The place where the CVS technician administers the shot is cordoned off by a blue canvas-like barrier on a metal frame. I think the barrier served its purpose, because while I was technically receiving my shot in the corner of a CVS pharmacy, not in a separate room, I didn't feel exposed in any way.
However, if privacy is a major concern for you, you may want to think about receiving the vaccine somewhere else.
The technician will ask you a few questions before injecting the vaccine into your arm. You get to pick which one, and since my right arm is my dominant one, I chose my left. This comes in handy if you get the common side effect of arm soreness, which I experienced. Depending on how bad it gets, it may interfere with your ability to use the arm, so it's best to play it safe and choose the side of your non-dominant hand.
Overall, I would say that the process of getting a coronavirus vaccine can be confusing, but once you do some research, you'll see there's a variety of options open to you, especially if you're open to traveling long distances within the state or county.
I highly recommend getting the coronavirus vaccine as soon as possible, even if it's not the most convenient. It's your only safe, reliable ticket out of isolated living and the first step on a path back to normal.
The most recent guidance from the Centers for Disease Control and Prevention as of April 3, says that vaccinated people can gather in small groups and travel with relatively low risk to their health. That sounds like an awesome deal to me.
To be honest, more personal freedom is reason enough in my view to take the vaccine. But for those among us who are more motivated by the greater good, I can think of no better, more readily available opportunity to save the world than to take the coronavirus vaccine.
For more information on how to find a vaccine, you can visit the websites for the Texas Department of State Health Services or Dallas County Health and Human Services.
About the Contributor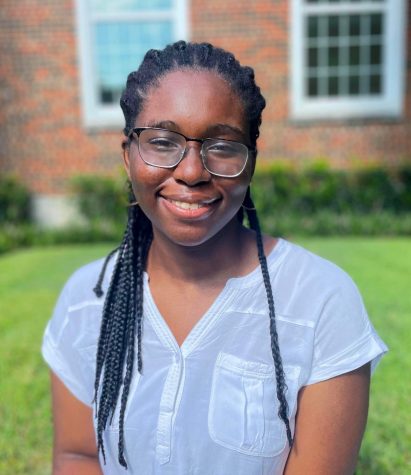 Jeneta Nwosu, Editor-in-Chief
What is her favorite dessert?
Her favorite dessert is cookie dough.
What is her biggest fear?
Her biggest fear is getting stranded in the desert. 
What made her want to join newspaper?
She doesn't remember exactly, but she's very glad she did. She loves almost every aspect of the program.