St. Michael's Market Starts Selling In Season
Local market celebrated 10 years
The vendors lined up in columns, their eyes lighting up whenever a customer is interested.
The goods are sold and restocked, creating a cycle of maintaining a customer's attention. Lively discussions are heard from every selling booth while customers walk away with their new items. 
The St. Michael's Market and its vendors celebrated a 10 year anniversary of building their brand. 
The market is located at St. Michael and All Angels Episcopal Church. It's a 501 (c)3 nonprofit farmers market where local farmers, ranchers and artisans sell directly to the community through outreach from the church. 
"We were in the North lot of the church, but when it went under construction, we had to move to the West lot," Tricia Stewart, director of St. Michael's Farmers Market said. "There was lots of preparation that went into that. We had to get electricity over there and had to paint the numbers over there for the vendors."
This year, the market has their band back to play outside for the rest of the season in the West lot. 
"The band is a nice touch and it's a good start to your day," local customer Lauren Greer said. 
The St. Michael's Farmers Market was started by a priest named Robert Daniels who suggested the idea to expand church outreach. Together with another priest, they formed the Farmers Market's Committee. They determined, within the committee, what people would like to do as far as job positions. Guy Griffeth, who had lots of experience with farmers, became the chairman of the committee.
"We aren't funded by the church, we use their parking lot, but we have our own fundraising," Nancy Wilbur, former St. Michael's Farmers Market director, said. "The vendors pay for their spots and they get to keep the money they earned. We went from a paid market to the committee running it on their own."
When Wilbur was about to retire, Stewart shadowed her in 2018 and then became the director in 2019. Stewart applied in January to get a Market Permit with the City of Dallas. Now, she has been running the market with the committee and has been coordinating with other vendors. 
  "I give vendors their spot in the parking lot," Stewart said. "We get all of the booths set up for our vendors and we are available when vendors arrive. I'm usually there from 5:15 a.m. to 1 p.m."
The St. Michael's Farmers Market is a food-only market and it focuses on local food. The goods have to come from within 150 miles of Dallas County. The market requires 100% of their vendors' goods to be homegrown or homemade.
"We have vendors apply to us [the committee]," Stewart said. "We also determine as a committee if the [applying] vendor is good for the market. We do this by visiting either their store or farm."
Once the vendor or vendors have been accepted, there is a set schedule for the vendors to follow and help them run their day. 
"A lot of customers come at 7 a.m," Schorlemer Haus Mustard vendor Lee Anne Sugg said. "I'm there from around 7-7:15. When it's time to close up, we put things in boxes and load up cars."
The market is usually open from April to October from 8 a.m. to noon every Saturday.
"We closed for about six weeks at the start of the coronavirus and started selling again in May," Sugg said. "Last year, they started late and ended late."
  The only time the market closes down is when it is thunder storming outside due to the health and safety risks. Otherwise, it is open on a regular schedule, even if it is raining outside.
The different vendors that sell at St. Michael's Farmers Market include Scot Snacks, Happy Sparkle Treats, And I Like It Cheesecake, Howdy Homemade and around 50 others. 
"I like being a vendor because St. Michael's has a great, focused mission," Sugg said. "It's a really nice market to work at. They really take care of their customers. It's a nice market for everyone."
By having all of these vendors, they are able to have a balanced market and there is no competition in selling the same products. 
"We hope that the vendors sell everything," Wilbur said. "My heart is with how hard the vendors work to sell their healthy goods."
To celebrate St. Michael's Farmers Market's 10th anniversary, there will be special dates where events will be held at the market. 
The first event will be held on May 1 and it will be known as Lemonade Day. The teens from Jubilee Park will make their lemonade to sell at St. Michael's.
The second event will be held on June 6, which is when food blogger and author The BakerMama will be coming to the market. 
"She makes a lot of different [food] boards and will be doing a live demonstration of one using the ingredients the vendors are selling in the market," Stewart said. 
The third event will be Family Day, held on Jul. 3. This is a patriotic dress up day for anyone who comes to the market.
"We will be celebrating Independence Day and we encourage everyone to dress up patriotically," Stewart said.
The fourth event will be a Hatch Chilli Roasting at the market on Aug. 21, hosted by Stocks and Bondy Founder, Joanne Bondy, on Aug. 21. 
"I will be roasting hot and mild spiced Hatch chili peppers," Bondy said. "I will also be selling the peppers by the pound at the market." 
The final planned event will be an Electronics Collection Day where customers will be able to recycle old electronics they no longer want.
There is another event the committee has planned that isn't confirmed yet, but is still set to happen at the market.
"We did a Holiday Pop-Up Market and everyone loved it, so we are scheduled to do another one Dec. 18," Stewart said.
The committee is now in the process of planning the layout of these events, while still maintaining a good connection with its community. 
"We help a vendor set up their tent and that same vendor is helping someone else set up theirs," Stewart said. "There is a lot of paying it forward."
The St. Michael's Market community is thrilled to have the market back in season and giving back to the community for its 10th year.
"My favorite thing about the market is the relationships I've made with the vendors, volunteers and the community," Stewart said. "Our market is all about giving back to our community. It is an energetic, happy place."
About the Contributor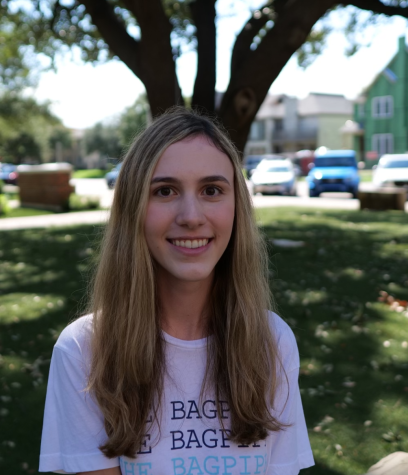 Elle Polychronis, Copy editor
What do you do when you need to relax?

I like listening to music and hanging out with friends

What are you most excited for in newspaper this year?

I'm excited to get to know all of the newcomers and take charge of my new editor position!

What is your zodiac sign?

Virgo