Review: CornDog With No Name Spreads Its Name
Fair food restaurant offers its unique menu at new second location
CornDog with No Name's unique angle on fair food cuisine and their wonderful service made it an enjoyable experience.
I first heard of CornDog with No Name from my family who had gone there while I was still at school. Since it is open only from 11 a.m. to 5 p.m. and closed Sunday, I had to find the perfect day to go there to have the full experience.
The location I scheduled to go to is located in Preston Center at 6030 Luther Ln and opened in late January. However, there is another location at 10220 Technology Blvd, which has different hours.
I went to CornDog with No Name with my friend freshman Jessica Wu to get another perspective on the food.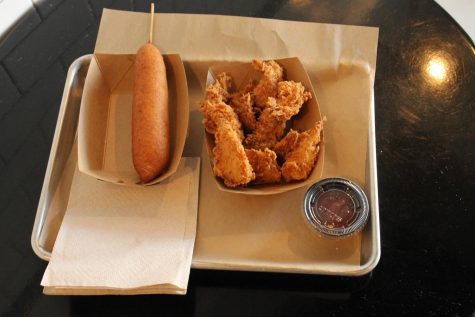 As soon as we walked in, I could tell that the restaurant was very modernized. There were big windows that let in good amounts of natural light, a cozy lounge chair and walls decorated with Highland Park and Southwestern Methodist University memorabilia.
The service at the restaurant was fast and the staff was polite and sweet. 
We sat down at a table ready to start off with something simple and decided to order The Classic. The Classic had a simple breading that tasted crispy and savory with the juicy meat, setting up the perfect corn dog.
The Golden Chiclets nuggets were delightfully crispy. The chicken was savory with a touch of sweetness. They were very fresh I didn't feel overburdened by the number of nuggets, which is sometimes a problem at other restaurants.
"They were probably one of my favorite things I ate there," Wu said. "They were crunchy, crispy deliciousness in a bite."
The Corn Dog Queen was very similar to a normal corn dog, but it had been dipped in 24 karat gold. The gold paper didn't taste like anything, but the outside had nice, silky and crispy breading. It tasted savory on the inside and was a good corn dog for those who want to keep it simple with an extravagant flair. 
"This is not your average carnival corn dog," Wu said. 
I was looking forward to trying The Bacon because I really like bacon, even if it was going to be spicy. The bacon was crunchy and salty which combined well with the infused
and cheddar cheese. The spice didn't bother me as much as it normally would because of how it was prepared.
"The bacon corn dog was a perfectly balanced kick between the salty bacon and spicy jalapeño," Wu said.
Since I don't like pickles, I wasn't a fan of The Pickle corn dog. However, if the name wasn't proof enough, it's great for people who like pickles. The pickle is juicy and has a strong taste that overpowers the meat. The bread is a little soggier because of the pickle.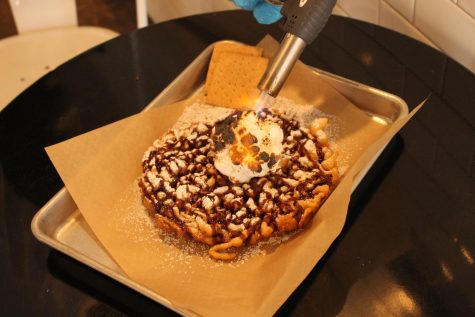 The Fried Oreos were what I was looking forward to most. The crispy outside was sprinkled with powdered sugar and chocolate sauce on top. The inside was very creamy and tasted like sweet Oreos. The oreo chunks were used to maximum effect in the Fried Oreos, making it my favorite item. 
"I had never had a fried Oreo until I went there, and they were amazing," Wu said. "There was a nice, crispy outer shell and a creamy, chocolatey inside.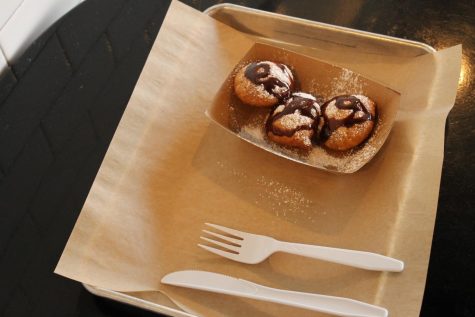 The Bonfire, a funnel cake with s'mores ingredients, had by far the best presentation. It looked like a real-life bonfire because of how it was placed and organized on the plate. The marshmallows were blow-torched,  slowly turning them browner before our eyes. 
"I like how the marshmallows added a nice fluffiness to the funnel cake," Wu said. "They added a hint of smokiness."
When I cut into the funnel cake, it was crispy and fluffy. The graham crackers were crunchy and the powdered sugar and chocolate syrup added to the satisfying sweetness. I couldn't stop eating it because it was so addicting.
"I like how the chocolate syrup on the bonfire was not overpowering," she said. 
Overall, CornDog with No Name is a wonderful place to grab a quick bite with amazing food, fast service and a great atmosphere. 
"I definitely want to go back," Wu said. "The service was great, the food was amazing and the overall atmosphere was really inviting."
About the Contributor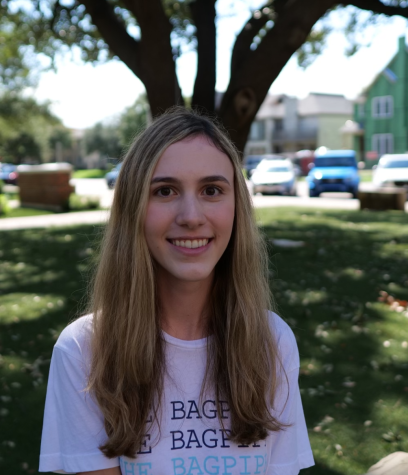 Elle Polychronis, Copy editor
What do you do when you need to relax?

I like listening to music and hanging out with friends

What are you most excited for in newspaper this year?

I'm excited to get to know all of the newcomers and take charge of my new editor position!

What is your zodiac sign?

Virgo