Swim And Dive Prepares For Regionals
Team faces regional meet in The Colony on Feb. 6.
The District 13-5A swim and dive boys and girls both earned multiple individual medals and won the team district championship at the district meet in Carrollton on Jan. 22.
The Scots placed in the top rankings for every event, and the top four finishers in each race qualified for the regional meet. 
Junior Lindsey Hosch was named district swimmer of the meet. The Blue Wave swimmers of the meet were freshman Campbell Schultz and sophomore Roman Duong.
"I am always placed in the 100 fly, 100 breast and relays," Hosch said. "We've been practicing for regionals every morning since Sept., most everyone is on the club team that trains in the afternoon."
Schultz is a distance freestyle and won first place in the 200 and 500 free and will advance to the regional meet.
"The meet went really well," Schultz said. "The girls went in the morning, and the guys went in the afternoon. There were five teams in total, and we won the meet in all events."
Senior Dash Wolford took the gold medal in the diving competition with a score of 413.40 seconds. Duong won first place in the 200 free and 100 fly and will also be advancing to the regional meet, and Hosch came in first place in the 100 fly and the 100 breast, as well as winning first place in the 200 medley relay and 200 free relay. 
"The season has been great, and we were able to train even with the coronavirus," Hosch said. "We've done really well at our meets so far and keeping our spirits up, and we've never been this excited for regionals."
The regional championship meet will be held at LISD Westside Aquatic Center in The Colony on Feb. 6. The top two swimmers from each race will advance to the state championship meet at the University of Texas at Austin on Feb. 27.
About the Contributor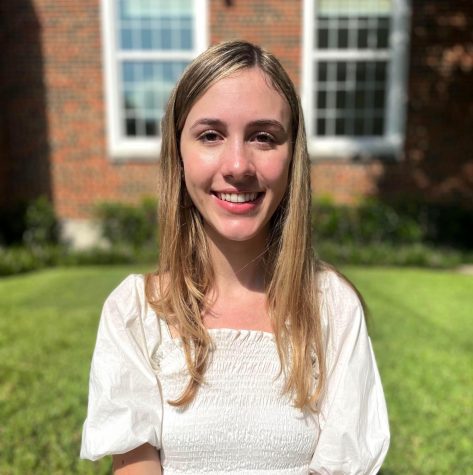 Elle Polychronis, News Editor
What is her go-to Starbucks order?
Her Starbucks order is a strawberry acai lemonade with a birthday cake cake pop.
What is her favorite dessert?
Her favorite dessert is
JD's Chippery.
What made her want to join newspaper?
She really likes to write, and she thought it would be a great way to meet new people.