Meet New Admin Round One: Michelle Shumate
Get to know new assistant principal Michelle Shumate
New Assistant Principal Michelle Shumate likes to be out in the halls greeting students and answering their questions.
"Unfortunately, the first couple of days when they were asking me where classes were, I was having to follow up and ask someone else where the classes were," Shumate said.
After the retirement this summer of former Assistant Principal Ken Fox, Shumate joined Highland Park High School, moving from Arkansas to Dallas to fill the opening. 
"I love being here. Most of my family is here, and it's been great," she said, "Of course with the coronavirus, you're still isolated from everyone, but it's just nice knowing I am back home in the Metroplex and it's very familiar and comfortable."
Though Shumate was born in Dallas, she moved to Midland, Texas, when she was six, where she eventually started her career in education. She became an English teacher at Midland Freshman High School, then the English department chair, and after, assistant principal. 
"Then from there, I became what we called a collegiate coach, and I worked from a central office," she said, "I worked with our two main high schools, Midland High and Lee High and with our alternative school, Coleman High School."
Shumate's job was to help struggling seniors who were at risk not to graduate.
"Sometimes, I'd call their jobs to see if we could get them some time off to get tutoring or just to get some homework done," she said.
She also helped students who had failed the Texas state standardized test get tutoring. 
From there, she moved to Arkansas, and Shumate worked for an alternative school called Belle Point Center: A New Tech Academy. 
Shumate said that the New Tech model was an approach based on long-term projects.
"We used a lot of project-based learning which had students come up with solutions to any real-life problem that we might have in the community," she said.
This could be from a student project helping local nursing homes to make blankets of specific geometric shapes and patterns.
"Or, they would work with volunteers in the community, and they would learn through their business classes," she said, "They would interview people and talk to the community and gather some volunteers to go in and to speak to the nursing home residents."
After spending five years at Belle Point, Shumate came to Dallas. She thinks that her work and experience at other schools bring a different perspective in her current assistant principal job. 
"Anytime you've worked in another area, another town, another company, you're going to bring those experiences and those resources to your current place," she said.
Shumate said she knows what it feels like to grade essays and engage students from being an English teacher. She's gained experience in meeting teachers' needs as a department chair and meeting student and staff needs as an assistant principal. 
Meeting student's needs are something that Shumate particularly loves to do.
"I love not just getting to know the students, but finding out what I can do to help make high school a better experience for them," she said.
If a student needed help figuring out how to do the extracurricular activities they want, for example, Shumate would be happy to step in.
Along with her presence in the halls, Shumate likes to greet students at the Westchester student entrance. She's there daily so she can greet both the A and B cohorts during hybrid learning.
"Being out there daily is so important so that they can at least get to know my face and get to see me since I don't get to see them that often," Shumate said.
After she does that, she goes into classrooms, answers her received emails and calls, or logs in for a virtual meeting.
As an assistant principal, Shumate has a broad list of responsibilities.
"Right away, she was charged with figuring out our ACT challenge for our seniors," Principal Jeremy Gilbert said.
Many standardized testing dates have been canceled because of the coronavirus pandemic and SAT, and ACT spots are in high demand.
"Ms. Shumate has been instrumental in helping create a situation where our students can take the SAT and ACT," Gilbert said.
Shumate is also using her experience in English to help her current school.
"She is partnering with our English department," Gilbert said, "and she's inserted herself into some conversations in making sure that they're supported."
Shumate says she's been familiarizing herself with the department's policies and procedures so she can give informed advice.
"You should always kind of know what you're talking about before you start saying anything, so that's what I'm doing right now," she said.
She's also been attending English department meetings and monitoring the teachers' needs and feelings in the department.
"They're the ones that work with the kids every day. They're in it," Shumate said, "I have mad respect for all teachers right now. I know that they are working hard and overtime to meet the needs of all the students."
Her main goal is to see what she can do to assist the teachers.
"I feel more than anything that's my role: how can I help them?" she said.
Gilbert praised Shumate's leadership and personality.
"She comes across as a very intelligent, capable, and strong leader, but she has a sneaky sense of humor and has been fun to get to know," he said.
Shumate said she's enjoyed the time she's had so far in Highland Park. 
"It has been busy, and it has been amazing," she said, "I have enjoyed getting to know the students that have been here. Everyone has been so polite and so welcoming."
She's also enjoyed the opportunities she's had to talk to parents, like at a volleyball game she visited one Friday night.
 Shumate has been impressed with students and their ability to advocate for themselves and said this quality is unique compared to other places she's worked.
"You usually have to teach that skill," she said.
Shumate looks forward to getting to know more students.
"That's why I do what I do. It's to get to know kids and see what they need, and then try to help them move forward," she said, "I hope as time goes on, that's going to be something I'm able to do in the near future. I've enjoyed it. I'm looking forward to a great year."
About the Writer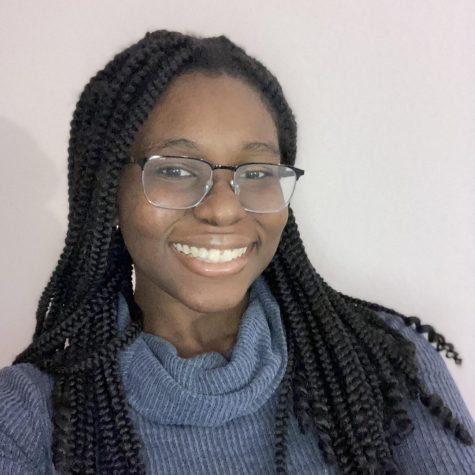 Jeneta Nwosu, Staff Editor
What kind of music will you find her listening to on the weekends?
She listens to every genre, especially hip-hop, pop, and rock.
What is her favorite ice cream flavor?
Her favorite ice cream flavor is cookie dough.
What is her dream job?
Her dream jobs would be related to economics or the law.