Seniors Take Advantage Of Test Optional Policies
Universities implement changes in application process
At the start of the year, senior Gabi Robinson took a nontraditional route when it came to applying for college by choosing not to submit her standardized test scores. 
"I never thought standardized testing really showed a person's capabilities," Robinson said. "The idea that one test accumulates your entire capacity of knowledge is crazy."
During the coronavirus pandemic, colleges across the country implemented test-optional policies to make the admissions process easier. Schools that are test-optional do not require students to send in their standardized test scores when applying. Now that the effects of the pandemic are slowly fading, many colleges kept these changes. 
Robinson took the ACT and applied to both test-optional schools and non-test optional schools, but she appreciates the choice students were given at schools that did not require the scores. 
"I feel like the test-optional policy takes a weight off of most seniors because I know getting down to the wire and graduating and submitting your transcripts and your high school resumes, test scores can be a big weight and factor of you getting it or not," she said.
According to a report by Common App, an undergraduate admissions program, there was a large number of seniors who chose not to send in their test scores throughout the difficulties of the pandemic. Last year, only 43% of applicants submitted their standardized test scores compared to around 77% the year before. 
Catherine L. Marrs, the founder of Marrs College Admissions, agrees that the expansion test-optional policies were intended to help seniors through a difficult year, and has seen lasting effects of the coronavirus pandemic on the students she advises. 
 "It has definitely affected students' emotional state and ability to get things done on time," Marrs said. "I've never seen such an effect. They're not able to get things together as easily as they did before." 
Senior Annabelle Jay chose to only apply to colleges where she did not have to submit an ACT or SAT score with her application for similar reasons as the ones Marrs described. 
"I saw all the work it was going to be and I [said], I don't want to do this," Jay said. "I don't want to cram this out in two months." 
Test-optional policies have also been implemented to increase diversity on campus, as the added price of hours of preparation and tutoring puts low-income students at a disadvantage when applying. However, Marrs believes that test-optional policies can actually be more unfair to students. Some colleges in the state of California have implemented test blind policies, saying that they won't even look at a student's test scores if they send them in.

"I think that the state of California, by [becoming test blind], they're eliminating the opportunity for some low income disadvantaged kids from getting in because they may test really well, but they don't perform in school because of distractions," she said.
Senior Advaith Subramanian agrees that test-optional policies can come with downsides. She also feels that colleges should either adopt full test blind policies or do away with test-optional policies altogether, so students don't have to make the choice themselves. 
"I would say that I think it pits students against one another," Subramanian said. "[Students get] lost in the sea of ambiguity [of] whether or not they should submit, and a lot of hard work has gone into [their scores], but then they aren't rewarded for the hard work because it might not be good enough for a test-optional school." 
Robinson is aware of the other side of the argument, but still strongly believes that test-optional policies have been positive for her and other seniors. She agrees that it's important for students to start early in terms of college applications, but still appreciates the benefits that test-optional policies have provided. 
"If you want to turn [your scores] in, you can, and if you don't want to, it won't affect how your application will be reviewed, how you'll be judged and whether you get in or not," Robinson said. "I think it's a really good policy because it [makes the process] smoother for everybody."
About the Contributor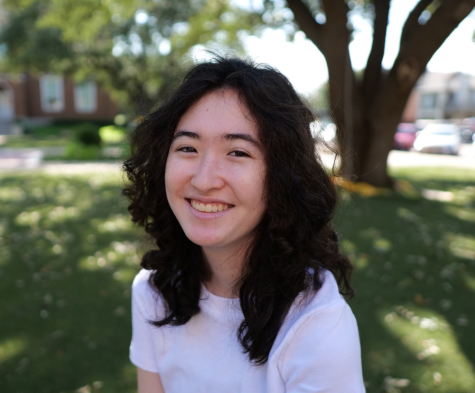 Zoie Carlile, Features Editor
What is your favorite dessert?

Brownies

Top 3 bands...

Ghost, Judas Priest, Black Sabbath

What is your zodiac sign?

Virgo