Review: Royal Blue Grocery Serves Best Coffee
Popular Park City coffee shops sampled and judged
Coffee shops are known for calming atmospheres, hipster decor and . . . coffee.
Starbucks, Royal Blue Grocery and Drip Coffee are the most popular coffee shops in the Park Cities. To see where the best coffee and overall experience is, I visited these locations to set the record straight.
My first stop was Royal Blue Grocery located in Highland Park Village. The grocery store doubling as a coffee shop opened its doors in 2015 and has become one of the most popular places to grab a coffee since. Like most businesses, Royal Blue requires customers to wear masks at all times while in the store and encourages people to socially distance from others.
A barista informed me that the most common order is a vanilla latte with lavender syrup. He also told me oat milk and whole milk were the most popular types of milk to combine with the drink. I went ahead and ordered a tall with whole milk.
When my drink was ready the first thing I noticed was its smell. The latte had the aroma of espresso with the faintest hint of lavender. While I couldn't detect vanilla the first time I smelled it, I did notice it the second time around. The drink was a nice light brown, beige color with a foamy ring of milk floating at the top.
As I took the first sip my mouth was greeted with the light and floral taste of the lavender. While I was at first hesitant about the vanilla latte and lavender combination, I was quickly proven wrong. The lavender was not at all overpowering and balanced nicely with the vanilla. The latte was also incredibly smooth and the blend of milk and coffee went down my throat without a hitch.
The espresso wasn't too strong either and blended well with the foamy, subtle sweetness of the milk. My only criticism of the latte was its temperature. I like my coffees on the warmer side and this one was more lukewarm. Had it been warmed just a little bit longer, it would've been perfect. That being said, the latte's delicious flavor made up for its lack of warmth.
Next, I visited a coffee shop that needs no introduction, Starbucks. There are two Starbucks locations in the Park Cities, one in Snider Plaza and the other in Highland Park Village. Like Royal Blue, the Snider Plaza location requires people to wear face masks and encourages social distancing.
One thing makes Starbucks particularly unique from other coffee shops is their seasonal selection of holiday themed drinks. These drinks include peppermint mocha, toasted white chocolate mocha, caramel brulee latte, chestnut praline latte and eggnog latte. After asking which one of these was the most popular, a barista informed me the peppermint mocha is what most customers order.
This time, I tried two different versions of the drink. One with whole milk and the other with almond milk. When my drinks were ready, I was instantly hit with the sweet, rich aroma of chocolate with a hint of the sharp, cool peppermint. The mocha was a dark shade of brown topped with a dollop of whipped cream that was in turn garnished with shavings of chocolate curls.
As I tasted it my first impression was that it tasted a lot like a hot chocolate infused with peppermint. The chocolate was rich and creamy and melted in my mouth as soon as it hit my tongue. Compared to Royal Blue, this drink was warmer and gave off more of a cozy, holiday feel.
The coffee, however, was barely noticeable. While I'm not a fan of strong coffee, the drink lacked the pungent, slight bitterness of the espresso was needed to balance out the sweetness of the chocolate. The peppermint was also a nice touch, though I found myself wishing a little more had been added.
The peppermint was obvious in the first few sips, but the more I drank it the more the chocolate took over and the peppermint seemed to disappear. Another significant element of the beverage was milk. The whole milk version was perfect. The sweetness of the milk balanced impeccably well with the other components creating a symphony of chocolate delight in my mouth.
The almond milk, on the other hand, pretty much ruined the drink for me. I'm a fan of almond milk, but in this drink, I was left with a dry, chalky taste in my mouth and made me wish I had a glass of water to wash it away. Because of this, I found it hard to swallow the drink and even after I did, I was left with a heavy feeling in my stomach. Unless you're lactose intolerant, I definitely recommend choosing the whole milk.
Last on my list was Drip Coffee. Since opening, Drip has become one of the most popular and convenient places for students to study, get a coffee or just hang out. Drip isn't any different from the other coffee shops I visited in terms of the coronavirus health policies. Patrons are required to wear masks and social distance themselves from others.
When I asked what their most sought after drink was, I was told that it was a vanilla latte. I decided to be a little more adventurous with my milk choice this time around and opted for half and half almond milk and coconut milk. The drink was ready in less than five minutes and I took the first sip with high expectations.
The drink looked like any other vanilla latte with a light brown body and a small portion of frothy milk at the top. Even before raising the cup to my lips the smell of espresso and vanilla filled the air. That, however, was as good as this latte got. As soon as the first drops of coffee hit my tongue I knew immediately this was not one of the better drinks on my list.
The latte was lukewarm and there was virtually no vanilla taste. The drink was also entirely too strong creating an unpleasant explosion of bitterness in my mouth. The coconut and almond milk didn't make much of a difference either. That being said, it didn't make it any worse and somewhat toned down the intensity of the espresso.
For five dollars this vanilla latte did not have the signature made-at-a-coffee-shop flavor and instead tasted like something anyone could attempt to make at home. After finishing my drink, I felt a wave of disappointment come over me. I had gone in expecting Drip to be on the top of my list given its immense popularity and had instead been met with subpar results. Regardless of whether all of Drip's coffees tasted this way or if it was just this one, their vanilla latte delivers a dissatisfying experience.
While there are more coffee shops in the Park Cities to choose from, the combination of good drinks, good service and an overall cheerful atmosphere marked Royal Blue as the obvious winner.
About the Contributor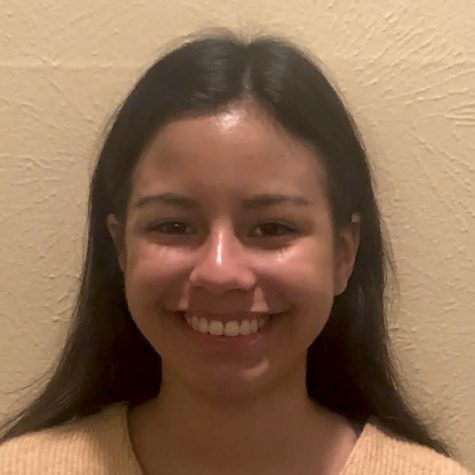 Lucy Gomez, Staff Editor
What is your dream job?
Her dream job is to be a journalist
What is. her go-to dad joke?
Her favorite dad joke is "What do you call an alligator in a vest? An investigator!"
What is her main source of information?
Her go-to news sources are the New York Times and the Dallas Morning News