Library Institutes New Protocols Due To Coronavirus
The new safety guidelines for the library due to the coronavirus are from the National Association of Librarians.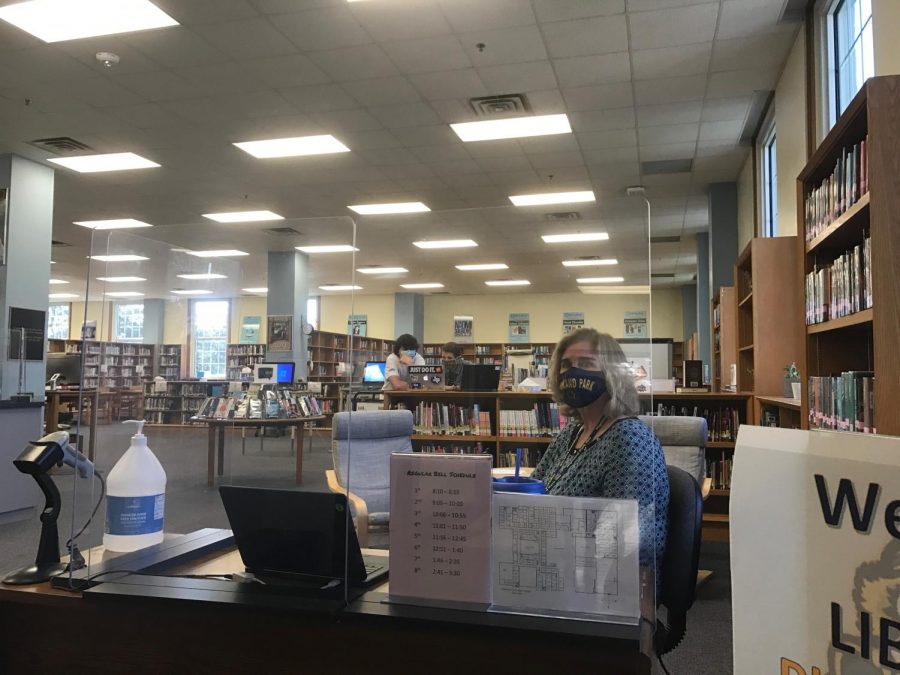 From the capacity limits to social distancing and sanitizing, the library looks a little different this year to ensure health and safety during the coronavirus pandemic.      
The new safety procedures, including limiting students to 68 people in the room per period, scanning a student's ID before entering, not letting the students touch the books while selecting one, having plexiglass partitions and sanitization of books for three to four days. 
"As far as social distancing goes, we now sit two people to a table, and there is plexiglass [dividers] between, but you can't have any more [people] than that," librarian Elizabeth Bode said. "We used to have kids that would play chess and things like that, but they can't do that anymore."
 The librarians are following The National Association of Librarians' suggested protocol response to coronavirus.
With these changes, the librarians are working one-on-one with students to help them.
"Today I walked around with a student named Isabella, and we were trying to find what book she liked, so I would pull one [book] out and I would read a little summary to her, and she would be like "hmm" not quite, and so we did that," Bode said. "We finally found a book she wanted to check out, but she never touched a book."
 Bode gave another option for those who do not want to find a book this way.
 "The other thing you can do is look at the catalog, which you can get through the [HPISD] Portal and then put holds on books, and then we will email you when it's time to come get your book," Bode said. 
Junior Logan Stribling, thinks the changes are positive.
"It's pretty quiet to do homework in, and I can focus much easier than hearing people talk a lot," Stribling said.
The library plans to make necessary changes to plan as needed throughout the year.
About the Writer
Catherine Stautz, Reporter
What music will you find her listening to on the weekends?
Her favorite music genre is pop country. 
What does she do when she's not working on Bagpipe?
Her hobbies include theatre, arts and crafts, designing and sewing.
What is her dream job?
Her dream job is to become a doctor, an interior designer or a news broadcaster.