Construction Forces Three Separate Pep Rallies Upon Arrival Of Annual Blacklight Event
Hang on for a minute...we're trying to find some more stories you might like.
Despite fire marshal restrictions preventing the whole school from attending pep rallies together, administration arranged plans to bring the annual blacklight pep rally to all four grades, plus the community.
To accomplish this, the school held three blacklight pep rallies. Thursday evening, the community was invited to see the show first. Then, on Friday, the first pep rally was for seniors and juniors, and included the regular team time and sports recognition segments, as well as all the performances, and the second pep rally was for underclassmen, with only the performances. Friday classes were reduced to 37 minutes each to accommodate both pep rallies. 
"I have been watching blacklight for years since my siblings were here," said junior color guard member Hayley Lukken. "This year, the pep rally was really fun and cool."
The varsity cheer team, color guard, Belles, drumline and Scotsmen performed at every pep rally. Each group coordinated outfits and props that would glow under a blacklight. The varsity cheerleaders wore an all white uniform, coupled with "Purge" masks. The color guard wore an all black sweatsuit, with neon vinyl sewed into it and smiley face masks. And the drum line sported white masks and self-painted shirts, which they revealed after stripping off black hoodies in the middle of their performance. They also wrapped their drumsticks in neon tape. 
But the Belles took it one step further and fully incorporated their costumes into their performance. They dressed as ghosts, wearing white bags that covered their entire bodies from head-to-toe. They performed to the theme song of "Ghostbusters" and Michael Jackson's "Thriller" with limited vision and motion due to the costume. They had to be led out by their directors and managers to ensure no one was hurt.
"The first time I did it I was really freaked out because I don't like not being able to see," senior Belle Elisabeth Wiebe said. "But after a while, I got used to it and felt more familiar with where I was going."
When it came time for the drumline to perform, the group filled the gym with upbeat music, using background music to accompany their percussion. There was white confetti on the drums, so when the drummers beat on them, the glowing paper bounced around. Throughout the high-energy performance, the group pulled off a few stunts as well.
"Mitchell Jackson threw a stick to me across the basketball court," junior drumline member Logan Easterbrook said. "Luckily, I caught it at all three performances."
The drumline's preparation was led by senior drumline captain Nicholas Chang, and it only took three practices to learn.
"I found a video on Youtube of the song, 'The Reason,' and I thought it was really cool," Chang said. "I thought the energy was kind of low due to the differences from construction. However, we enjoy performing and didn't mind doing it three times."
The blacklight pep rally is always performed before Halloween, and historically, has a high number of attendees compared to other pep rallies.
About the Writer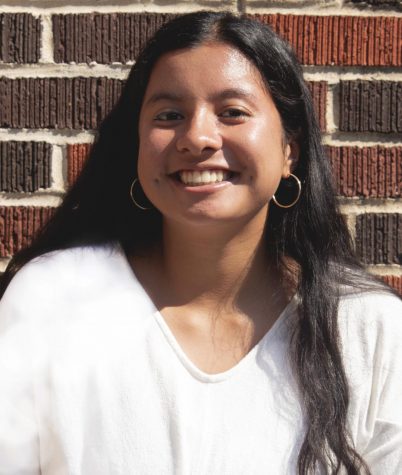 Sophie Jejurikar, Editor-in-Chief
How many years have you been in newspaper?
This is my fourth year on the Bagpipe staff.
What are you involved with at the school?
Band, Youth and Government Club, Out of this Bubble Club, etc.
How would your friends describe you?
Determined, compassionate and grounded
What is your favorite ice cream flavor?
Mint chocolate chip or cookies and cream