Keeping Up with Charlie
All About Charlie Puth's Music Career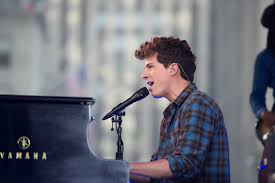 Hang on for a minute...we're trying to find some more stories you might like.
Charlie Puth just released his new album, Voicenotes, on May 11. The album consists of 13 songs, including "Attention" and "How Long." "Attention" was released as a single on April 21 before the full album was released. The song's music video was released on April 24, and was uploaded to YouTube. "Attention" has had 754 million views so far in regards to the music video.
Puth was born on December 2, 1991. His interest in music was encouraged by his mother who was a music teacher. Puth started to study jazz at the age of 10 and participated in a summer youth jazz ensemble at Count Basie Theatre's Cool School at the age of 12. In the sixth grade, Puth made a homemade Christmas Album and went door to door selling his "Have A Merry Charlie Christmas" albums making $600 dollars in sales. From seventh grade through his senior year, he attended Manhattan School of Music Pre-College as a jazz piano major. Puth then went on to the Berklee School of Music, and he graduated in 2013 where he majored in music production and engineering.
In 2009 Puth had a YouTube channel, Charlies Vlogs, where he posted comedy skits and acoustic covers of songs. Throughout his high school years he created independent singles that were released online for streaming. In 2014 he co-wrote the song "Celebrate," which was included in Pitbull's Globalization Album.
In 2015, Puth signed with Atlantic Records and released his first single "Marvin Gaye," which featured vocals of  Meghan Trainor. The song topped the charts in New Zealand, Ireland and the United Kingdom, and peaked at number 21 on the US Billboard Hot 100 Chart. Later that year, Puth wrote, co-produced and was featured in the song "See You Again" with Wiz Khalifa. In August that year he released the song "One Call Away," which peaked at number 12 in the United States, 26 in the United Kingdom and 4 in Australia. His album Nine Track Mind was released a few days later and it reached number six on the Billboard 200.
In 2017, Puth also collaborated with One Direction's Liam Payne on the single "Bedroom Floor," which he co-produced and provided background vocals for. Puth announced that he is set to embark on the Voicenotes tour in 2018 with Hailee Steinfeld.