March Madness Final Four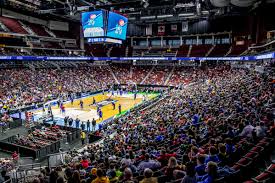 Hang on for a minute...we're trying to find some more stories you might like.
The NCAA Division 1 Men's Basketball Tournament also know as March Madness started on March 13, 2018. It is a 68 team single elimination tournament to determine the men's NCAA Division 1 college basketball national champion for the 2017- 2018 season.
The championship game of  the NCAA tournament for last year was between the Gonzaga Bulldogs and the North Carolina Tar Heels, and the final score was 65-71 with North Carolina taking the win.
This year the March Madness Final Four and the championship game will be held at the Alamodome in San Antonio, Texas. The Final Four games will be held on Sat. March 31. The teams that made it to the Final Four are the Loyola Ramblers, Michigan Wolverines, Villanova Wildcats and Kansas Jayhawks. The first game is at about six p.m. (EST) and will be the Michigan Wolverines vs. the Loyola Ramblers. And the last game of the night will be Villanova Wildcats vs. Kansas Jayhawks at about 8:50 p.m, and the winners will play on Mon. April 2 for the championship.
The NCAA Men's Basketball first tournament started on March 17, 1939 and involved eight schools that played eight games. The championship game was played on March 27 at Northwestern University's campus in Evanston, Illinois.The first winning team of March Madness was Oregon, coached by Howard Hobson. Oregon won the national title with a 46 to 33 victory in the final game over Ohio State, coached by Harold Olsen. Despite their success in this first tournament, Oregon would not make another Final Four until 2017.
This year's March Madness, everyone in the Final Four has already won at least once. The Michigan wolverines have won once and have been runner up five times, the Loyola Ramblers have won once and they have never been to a runner up. The Villanova wildcats have won twice and have been runner up once, and the Kansas Jayhawks have won three times and been runner up six.
One big thing about March Madness is making brackets, but the chances of have a perfect are one in as low as 1 in 9,223,372,036,854,775,808 or 1 in 9.2 quintillion and as high as 1 in 128 billion, so good luck winning.