Praying about Kesha's Grammy performance
Hang on for a minute...we're trying to find some more stories you might like.
Well known for her hit songs "Tik Tok" or "Timber," Kesha gave a powerful performance at the Grammy's of her new single "Praying." On stage with singers like Cyndi Lauper, Camila Cabello, Andra Day, Julia Michaels, Bebe Rexha as well the Resistance Revival Chorus, these women joined together in their all white regalia in support of the #MeToo movement.
The term 'Me Too' was originally coined in 2006 by Tarana Burke as a phrase to empower women, especially those who had been sexually harassed or assaulted. In mid-October, actress Alyssa Milano sent out a tweet encouraging those who have been sexually assaulted to forward the tweet in support of others.
This is relevant to Kesha's performance due to a lawsuit between herself and her producer, Dr. Luke. Her accusations against him included that he drugged her, as well as both sexually and emotionally abused her. In 2014, Kesha filed a lawsuit against the man in hopes of breaking her contract with Kemosabe Records so she could produce music elsewhere. Shortly afterwards, Dr. Luke filed a counter-lawsuit against Kesha claiming her allegations were defamation in an extreme form of contract negotiation. In February 2016, the Supreme Court ruled in favor of Dr. Luke, causing outrage among Kesha supporters.
However, Dr. Luke's attorney said that Kesha would not have to work with Dr. Luke as a producer if she wished not to. Kesha never responded to the statement.
All of this was the likely motivation behind her moving performance at the Grammy's. Even host James Corden seemed emotional by the end of the song. That being said, not everyone seemed impressed– a multitude of YouTube comments on the performance say that the song was a "check-in-the-box tune" and that "this performance was just annoying."
Regardless of the plethora of opinions about her execution of Praying, the song clearly meant a lot to Kesha and her co-singers, judging by all of whom gathered around her after the end of the performance to embrace the star.

About the Writer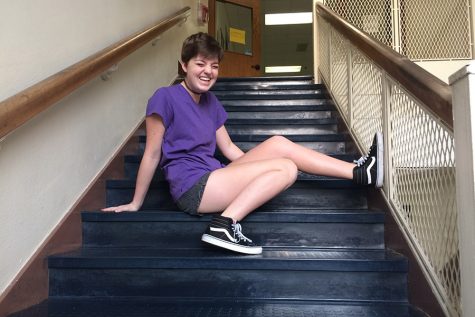 Jules Heatley, Staffer
Current Grade Level:
10
What is your position on the Bagpipe:
Staffer
What is your go-to snack:
Cheetos Puffs
What is your favorite tv show to binge watch:
Chopped or Cooks vs. Cons
What are you most excited to get out of Bagpipe this year:
I'm excited to learn to write as a journalist.
In what are you involved at HP:
AcDec
What is your dream job:
Editor
How would your friends describe you:
The Dad of the group
What is your favorite song or style of music:
Indie-pop, Alternative and a few musicals
What is a fun fact about yourself that not everyone knows:
I keep all my old writing from when I was 11-12 because I like to laugh at it and cringe.
Where is the coolest place you have visited:
Cabo or Giant's Causeway in Northern Ireland
What is your ideal pet:
A Yorkie (her name is Ruby)
What is your favorite class this year:
Lunch
Where do you want to go to college:
University of Washington
What is your favorite news source:
NY Times
What is the best piece of advice you have received so far:
It is okay to make mistakes as long as you learn from them and you strive to be a better person afterwards.
If you could attend any major event, which would you choose:
A Dodie Clark concert