Halo Top ice cream deserves a halo
The phenomenon of low calorie ice cream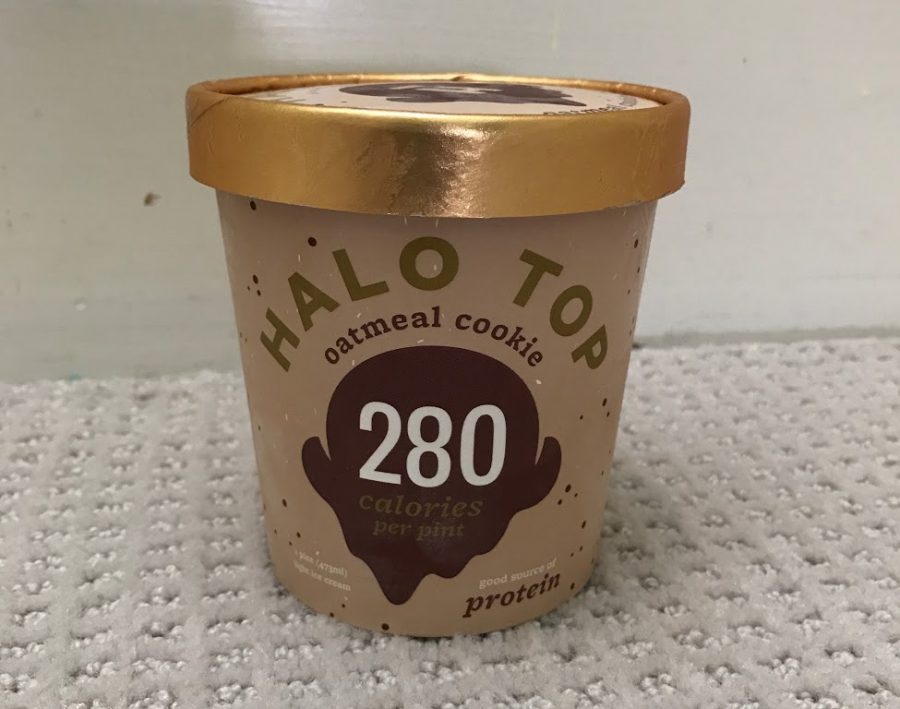 Virginia Fielder, Section Editor
October 9, 2017
Healthy living is hard, especially with a major sweet tooth. Multiple diets are cast aside or broken, just for the smallest taste of something with a high calorie content and tons of sugar. Desserts are known as indulgent and all dieters know to "skip the sweet stuff." Thankfully, Halo Top has invented a new way for everyone to splurge on sugar: low calorie ice cream.
While other low calorie "desserts" are tempting and a decent way to relieve cravings, most of them never taste quite like what the product describes itself as. Tasteless or bitter is the way most of those desserts go. Unlike all these replacement sweets, Halo Top ice cream really tastes like ice cream. Halo Top uses only the best all natural ingredients to give people the most quality low calorie, low sugar and high protein taste. Their colorful website lists all the ingredients in every unique flavor they have so one always knows what they are scooping into their bowls. Flavors range from birthday cake to oatmeal cookie to red velvet. All great sweets for a midnight munch!
"Honestly, Halo Top ice cream is something I buy weekly," said junior Anna Holder. "It's just so yummy and I never regret eating it because of its health value,".
Along with Halo Top's superb and realistic taste, the ice cream is high in protein. Each pint has either 20 or 24 grams of protein. Protein is a currently trending nutrient and Halo Top is taking advantage of this market with their healthy dessert. This makes the ice cream a guilt free sweet treat.
The low calorie count almost seems magical, considering ice cream is a dessert, but Halo Top has fortunately figured out the secret recipe for their yummy dessert. To keep calories low, Halo Top uses the zero-calorie sweetener Stevia. For added sweetness, it also uses organic cane sugar — which is still sugar — and erythritol, which is a type of sugar alcohol. Health critics have inspected the mysterious low calorie ice cream, and deemed it worthy of eating after investigating the artificial sweeteners.
"I'm so glad this ice cream is low calorie," said Holder. "There's nothing else like it available in stores. I eat this every night for dessert."