Sisters in the Sun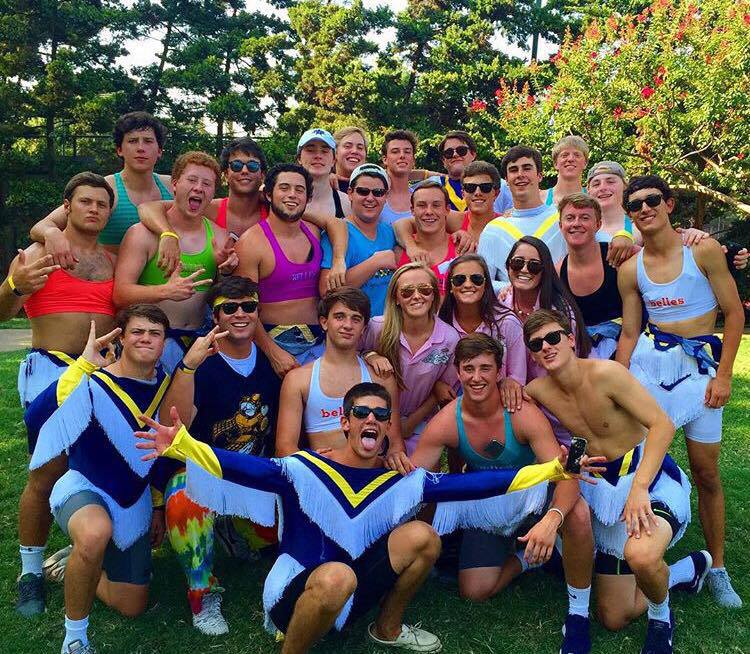 Liza Goodson, Highlander Staff
October 3, 2015
On the last day of summer, senior and junior girls took freshman girls to the annual Hi-lites picnic, where the Belle boys, Scotsmen, and cheerleaders performed. In the spring, senior and junior girls sign up to take freshman girls to the picnic to get to know them and introduce them to the Hi-lites club. The skits that everyone performs are hilarious and everyone always looks forward to the boys dressing up and dancing like Belles.
Each older girls is assigned a "little sis" to take to the picnic. This is a great time for the older girls to share what high school is like and answer any questions the younger girls have about what's coming up. Often times, the older girls sign up for someone they know but sometimes they have to sign up for someone they don't know.
"I signed up for someone I didn't know so it was really exciting to meet someone new. The picnic was a great time, and I loved talking to my little sis about her summer and what she was excited for in high school," junior Ashley Giotes said. "It reminded me of when I was a freshman, and I was so scared, but it didn't really seem like she was very scared."
As girls arrived, Flash photography took pictures of friends and sister pairs. People stood together and talked about their summer. The Hi-lites picnic is known for the senior boys dancing in Belle uniforms. Once everyone sat down in the grass, the officers introduced themselves. Each officer talked about the jobs of her position and what all it included.
First, the Scotsmen did a skit about the Bachelor and renacted scenes from when the bachelor gives out roses to the lucky bachelorettes. The skit was so funny and everyone was laughing. One of the Scotsmen, senior Eric Johnsen, even wore a dress and a wig and looked like a girl. Everyone thought it was hilarious and didn't know what to think about a boy in a dress!
"I thought the skit was so funny, I would have never expected a boy to wear a wig and dress in front of that many people," Parker said. "The picnic was really exciting and my big sister was senior Clara Beecherl," freshman McKay Parker said.
Next, the lieutenant Belles lined up. They did a round of kicks but there was a technical difficulty so the music would not play so they could not do the dance they had prepared. Everyone was so disappointed because we all wanted to see the Belles dance.
After that incident, the senior boys dressed up like Belles lined up in front of everyone. The music started playing and all the boys were dancing around. They were doing a routine that the actual Belles do, and it was hilarious trying to watch them all try to do it in sync. The Hi-lites picnic was an overall great experience, and it was a perfect way to introduce the new school year.