Dallas Provides Places To Explore Trending Vintage Clothing
Multiple shops in area add uniqueness to local shopping scene
Vintage clothing has become more popular and in-demand over the last couple of years, and some of the top consignment stores in the metroplex can be found just minutes away from the Park Cities.
To Be Continued, also known as TBC, Vintage Martini, Gratitude and Vagabond are just some of the names synonymous with vintage fashion. The stores vary from each other as each buys and sells their pieces in different ways. 
TBC and Vintage Martini are luxury consignment stores that resell upscale, designer items. Many of these items are vintage. These brands include Louis Vuitton, Chanel, Gucci and  Hermes to name a few. 
TBC's Dallas location has been in business for six years. The store typically resells current trending pieces, and only takes a few special vintage pieces.
What is unique about TBC is that in addition to a person selling their designer item for cash, TBC allows for one to trade an item for another item in the store. 
TBC's pieces are generally pricier compared to traditional consignment stores because TBC carries designer brands. 
"Usually, we take clothes, shoes, accessories, anything like that, but it depends on the brand," TBC sales associate Grace Bell said. "Our consignment rate starts at 50% and goes up to 70% depending on what the item is priced at."
According to Investopedia, the consignment rate is the percentage of cash the store takes from the profit made on an item. The remaining percentage is put back into the seller's pockets. 
The store's clothing is organized by sizing with sections dedicated to shoes, purses, glasses and long dresses. However, there are limited size options in each category due to the small amount of items the store carries.
Another place to buy vintage clothing is in a more traditional vintage store, such as Gratitude Vintage Clothing.
Gratitude is a small vintage store on Fairmount Street. Originally, the store was located in a small house that eventually overflowed with all of the store's items. It is filled with jewelry, clothing, hats, dolls and shoes. 
At the very front of Gratitude, there are pieces of vintage jewelry including earrings, necklaces and bracelets. 
"I like Gratitude because the store is sectioned by different decades and it's really cool to walk around in because every room has a different feeling," junior Tori Aquista said. "I like how the cases with the jewelry are in the front so when you're leaving you're kind of drawn to the jewelry. It's fun to look through."
The store is organized by decade, which allows the shopper to shop based on a style of their choice rather than the type of item. 
"I typically prefer the '70s and before, [and] I will consider certain things from the '80s," Gratitude owner Karen Stephens said. 
 Another store organized in sections is Vagabond, which sells t-shirts, letterman jackets and vintage denim. The store is organized by topics. 
"I like Vagabond's jeans and t-shirts because they have a really wide selection of different things," Aquista said. "The whole store is organized by college stuff, music artists, and they have a Levi's section and Harley-Davidson section. They have their own patchwork clothing and reworked jeans that you can look through and try on." 
The style of many items in the store allows for a shopper to see how vintage can be reworked and styled to fit current trends.
The method of buying and selling vintage clothing varies throughout the stores, but each store provides the shoppers with a sense of true vintage that can't be replicated anywhere else.
About the Contributor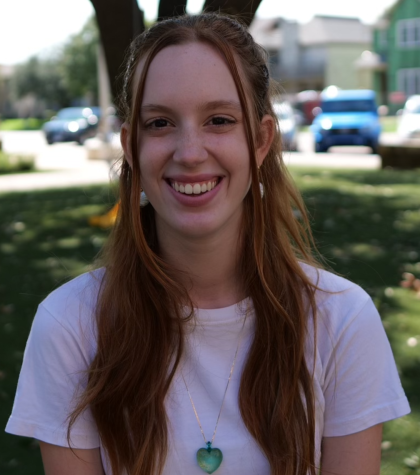 Chloe Nugent, Reporter
What is your favorite dessert?

Peach cobbler

Top 3 bands...

Tyler the creator, Frank Ocean and Lana Del Rey

What is your favorite way to relax?

Watching a romance movie