Food Shortages Affect Cafeteria Operations
Supply shortages, in part from pandemic, impact lunch offerings
When cafeteria manager Joan Bayes sends an order for Gatorade, whether it will truly arrive is a mystery.
"It's either we get all of them, or we receive none," Bayes said.
Throughout the school year, Bayes has struggled with a shortage of food in the cafeteria due to supply chain interruptions. These interruptions impact not only the cafeteria, but consumers nationwide as well, and arose because of national trends in labor and demand.
An October report by the Labor Department showed that the U.S. experienced a record surge in job resignations this summer, which means that there are less workers available to transport goods. 
The trucking industry in particular has 80,000 less drivers than it needs, according to a representative of the American Trucking Association, who testified in the House Agriculture Committee's meeting addressing challenges to the national food supply chain.
Because the arrival of orders is so uncertain, Bayes had to pare down the lunch menu.
"[The] Center Crest [line] used to be a four-week rotating menu and went to a one week, so we could help our distributors know what we are going to use on a more regular basis," Bayes said. 
The district's middle and elementary schools are also running short on food items because all schools use the same suppliers, Ben E. Keith and Cisco. When one supplier is out of a product or can't deliver on time, Bayes relies on the other supplier. 
She has to be strategic with her orders and attempts to order two weeks in advance, then put the food in a freezer until it's needed.
"
I frequently have to change what I'm getting because they run out and don't have what I was planning on getting."
— Julia Yates
"I may not get a delivery for three days, but if I put that order in on Tuesday for a Friday delivery and they guarantee it, then they hold the product until they deliver it on Friday," Bayes said. "It's really important to try to get my orders in even earlier than usual."
She also has to be ready to improvise in accordance with product availability.
"I can see, 'Okay, we are going to have to adjust here and [for] hamburgers, maybe have to do a thicker double portion of meat, or the double hamburger would become a single hamburger patty but ounce wise it's the same," she said.
Along with a shortage of hamburger patties, Bayes experienced shortages in Gatorade, Naked juice and pre-packaged candy. Pre-packaged food is more difficult to get, especially because coronavirus precautions drive up the demand for pre-packaged food.
For this reason, Bayes struggled to find utensils and containers to individually package food last year. However, this year, containers and utensils are easier to find, and the shortages are with the food items themselves.
Bayes said prices for food in the cafeteria have increased.
"They have gone up a little bit, maybe a quarter, 50 cents on some items," she said. "We have had a price increase on our side."
Despite all of the changes, the food the cafeteria sources from other businesses like Chick-Fil-A or Domino's has been available consistently.
"Our suppliers of the ready-made items have been keeping up really good with us," Bayes said.
The cafeteria's pizza is one of these ready-made items. During sixth period, pizza sometimes runs out, but it is due to student consumption rather than a supply chain issue. 
Freshman Jackson Whitaker didn't feel that cafeteria shortages affected his lunchtime much.
"I noticed they've changed the flavor of Gatorade, but there hasn't been a shortage that I've noticed," he said.
Junior Julia Yates said that the cafeteria seems to run out of specific items more often than in previous school years.
"I frequently have to change what I'm getting because they run out and don't have what I was planning on getting," Yates said. "I think they should limit the amount of food [each student gets], so we stop running out so quickly." 
Yates noticed the changes made to the menus as well.
"They repeat the same food instead of having more variation," Yates said. 
Bayes said she has to remain flexible and take the process week by week.
"I just have to deal with what product I can get," Bayes said. 
About the Contributor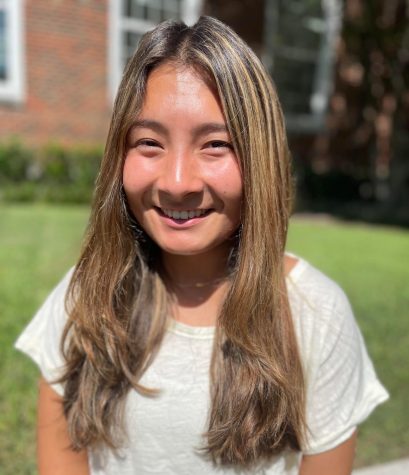 Olivia Howse, Reporter
What are her top three favorite bands/artists?
Her favorites are Taylor Swift, Drake and Morgan Wallen.
What is her favorite dessert?
Her favorite dessert is
Starburst Minis. 
If she was stuck on a tropical island, what celebrity would she want to have stuck with her?
She would want Khole Kardashian.