Review: Fendi x Versace Blend Makes Perfect Collaboration
Fendace makes fashion history
Iconic designer brands, Fendi and Versace, made history after closing out Milan Fashion Week with a fashion show combining the different styles of the brands, allowing for unique pieces to be created. 
Versace and Fendi have long been competitive brands in the fashion industry, but for one night, all differences were put aside. Versace's designer, Donatella Versace, and Fendi's womenswear designer, Kim Jones, came together and put on a one night only fashion show to display a new collection based on each designer's creative outlook on the other brand. This collaboration allowed two Italian brands to unite and embrace their Italian roots. 
The collection combined the two brands' contrasting styles and united them in perfect harmony. Both the brands' iconic logos and patterns blended in with each other and allowed both Fendi and Versace to shine through the fashion pieces. 
Versace has always been famous for their sheer metallic dresses with gems. One of my favorite pieces from the collection was a hot pink strapless mini dress with Fendi logos engraved in the dress. The dress itself is simple, but it still adds a beautiful pop of color which allows the dress to be more distinctive. The dress was paired with a bedazzled mini bag in the same shade of pink. 
Throughout the runway show, mini bags made more and more appearances. Mini bags have become more popular over the years, but the detailing and sparkle of the FENDACE bags caused them to become one of my favorites I've seen so far.
Because this is the first time in fashion history Fendi and Versace have collaborated, the momentous occasion caused the fashion industry to go wild. The two brands have completely different styles, yet the designers came together and created a line that didn't clash and worked together nicely. The different patterns and styles created a collection like no one has ever seen before. 
Not only did the show make fashion history, but it also included 40 supermodels including Gigi Hadid, Naomi Campbell, Adut Akech, Kate Moss and her daughter, Lila Moss. 
This fashion show marked one of Hadid's comeback shows after giving birth to her baby, Khai, in September 2020. Her walk was impressive and she showed the world she still has the signature sparkle she had before giving birth.
The show was split in half with the first half of the show dedicated to Fendi by Versace and the other Versace by Fendi. The two designers swapped their brands and allowed the other creative freedom of how to express the brands style. 
Versace's take on Fendi incorporated a lot of popular styles from the 90's including the cuts of the dresses and styles of the shoes as well as incorporating a punk-rock aesthetic. Fendi's take on Versace included colorful patterns and designs that fused glamour with street-like style. 
It was interesting to see the different outlooks each designer had on the brands. While Fendi focused on colorful print designs, Versace focused more on details, bodycon dresses and current fashion trends. 
This collection made headlines in the fashion industry and allowed people to see how innovative and unique fashion designers really are. Donatella Versace and Jones' perspective of the brands shined on stage and allowed for an unforgettable collection. 
About the Contributor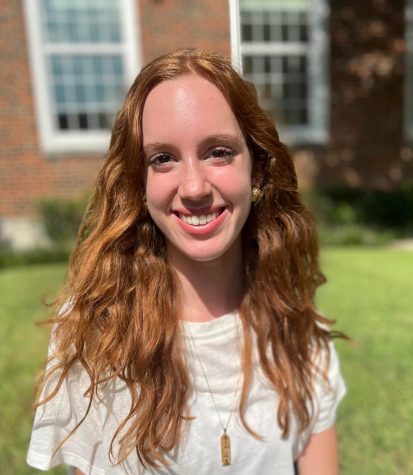 Chloe Nugent, Reporter
What is her biggest fear?

Her biggest fear is bugs.

What is her favorite show?

Her favorite show is "Stranger Things."

What are her top three favorite bands/artists?

Her favorites are Mötley Crüe, Tyler The Creator and Frank Ocean.