New Proposition Offers Possibility To Raise Teacher Salaries
Nov. 2 election addresses low teacher pay in HPISD
*Update*
The Board of Trustees's golden penny proposition passed on Election Day, Tuesday Nov. 2, with a result of 79% for the proposition to 21% against.
This allows the district to access about $3.6 million in additional revenue not subject to recapture by the state, which it has committed to using for staff compensation, according to a district press release.
Staff salary will increase by 3% of the midpoint salary for each staff member's paygrade, as outlined in the compensation manual. Staff members will also receive an additional one-time payment based on years of total experience and employment status.
The district will augment their contributions to employee health insurance coverage by $372 as well.
"
Thank you to HPISD voters for supporting our dedicated staff members. While this won't solve all of our compensation challenges, this is a significant step in the right direction."
— Tom Trigg
"Attracting and retaining high quality staff is absolutely critical to maintaining our tradition of excellence in HPISD," Superintendent Tom Trigg said in a district press release. "Our staff members have always known that the community is behind them, and the outcome of this election makes a powerful statement. Thank you to HPISD voters for supporting our dedicated staff members. While this won't solve all of our compensation challenges, this is a significant step in the right direction."
---
*Original story run in The Bagpipe magazine*
After 30 years of teaching, art teacher Peggy Bollman said she feels ready to retire soon. 
"I am getting old," she said, with a smile.
But the amount of pension money she would receive is based on her salary, which in Bollman's experience, comes up short compared to pay in other districts.
"I have seen other school districts offer from $5,000 to $15,000 dollars a year more than Highland Park, so it's a significant difference," Bollman said. "I know that there are teachers, sadly, that have gone to other school districts for that reason."
"
I know that there are teachers, sadly, that have gone to other school districts for that reason"
— Peggy Bollman
The district ranks 24th in compensation for teachers with a bachelor's degree and 22nd for teachers with a master's degree out of 25 equivalent North Texas school districts as of last school year, according to the district. The district's average base salary for teachers after five years is $51,858. The compensation plan details that teacher salaries range from $50,300 to $68,000, depending on experience, with additional stipends available in certain cases. 
To be able to pay teachers more, the Board of Trustees called for an election, asking voters to make more of the money raised from property taxes available from the state. 
In cases like this, the state of Texas uses the term "golden penny."
Golden pennies represent tax revenue that is used for local affairs and is not subject to recapture by the state government. When they are accessed by voters, all the revenue generated by the pennies stays in the school district to aid in issues such as teacher salaries.
In short, by claiming more property tax revenue for local purposes rather than state purposes, the school district can raise money without having to raise taxes for the residents.
This move is welcome to English teacher Jackie Moryan, who would like her salary to match those in other districts.
"I made significantly more in Irving," Moryan said. "In Irving, they pay about 20% more." 
However, not all teachers are experiencing a gap. April Burns, a volleyball coach and geometry teacher is being paid more than at her previous school. 
"Before I came here, I worked at a low income school, and I actually made less because it was a more rural district," Burns said. 
Teachers with extra positions of responsibility, like Burns, who teaches a core class and coaches a sport, get an extra payment. Teachers with a master's degree also get an annual stipend of $2,500, and those with a doctorate get twice that amount.
Teachers in the district must earn a master's degree within seven years of being hired.
"Highland Park requires a master's degree, and teachers with master's degrees should, of course, earn more," Bollman said.
She supports the proposition from the Board of Trustees to increase teacher compensation.
"We are professionals, and I think that based on the quality of education we perform here at Highland Park, we should be paid more," Bollman said.
While the election will take place on Nov. 2, early voting started Oct. 18. Voters can cast their ballots at the HPISD Administration Building, or at University Park United Methodist Church.
If the golden penny proposition passes, it will generate approximately $3.6 million additional revenue in the form of four golden pennies for the school district, while still reducing HPISD property owners' tax rates by 2.1 cents per $100 – a five-year low.
A majority vote against the golden pennies will decrease the tax rate by 6.1 cents per $100 of assessed property value. Teacher compensation would not increase, and the top reason teachers reject job offers or resign from the district is compensation, according to numbers released by the school district.
"There are people who have gone to other places because the pay is better," Bollman said. "That's a really difficult choice to make when you're at a school that you enjoy teaching at."
Bollman, who has taught at the school for nine years, said she decided to stay because of the students. 
"The kids here do work hard," she said. "They're overall respectful and cooperative."
She doesn't have to address disciplinary issues as often as she has in the past, so she
gets to spend more of her time teaching.
"It means that my retirement will probably be a little bit less, but I love teaching," she said. "And I found it to be a joy here."
About the Contributor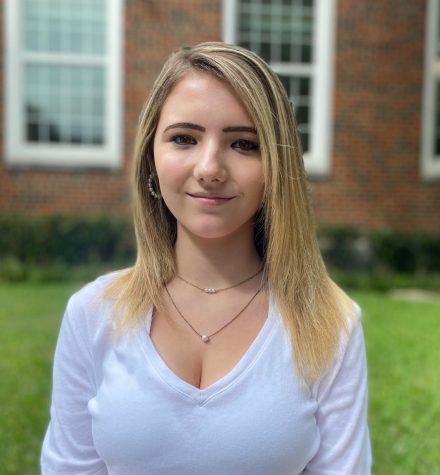 Ellie Cooper, Reporter
What are her top three favorite bands/artists?
Her favorites are
Alice Cooper, Mötley Crüe and Joan Jett.
What is her favorite dessert?
Her favorite dessert is brownies.
If she was stuck on a tropical island, what celebrity would she want to have stuck with her?
She would want Marilyn Monroe.