Varsity Tennis Set To Travel To State Semifinals
Team strives to bring home 18th overall, sixth consecutive state championship
---
Update: The tennis team emerged from the state finals victorious, coming home with the sixth consecutive state championship and the 18th overall.
---
The varsity tennis team will travel to Texas A&M for the 5A state semifinal round on Thursday, Oct. 28.
The team holds 21 consecutive district and regional championships, 17 state team championships, and it is the only program to win state at the 4A, 5A and 6A level.
Their most recent state championship winning streak began in 2016, and the team plans to continue the streak going into their 2021 season. 
Prior to today, the team played Longview on Sept. 19, beating them 10-0 with seven wins in doubles and three wins in singles.
"It was pretty good. I'd say we took care of business," senior captain Isabella McElfresh said. "I think everybody played really well and was really focused on getting through their match and supporting the rest of the team." 
The team competed in the regional quarterfinals and regional semi-finals on the week of Oct. 18th.
Junior captain Leo Hall explained that the regional semi-final games were the first "serious" matches of the season because teams in their district aren't as competitive compared to others.
The team moved on to play Frisco Independence High School on Friday, Oct. 22, who was ranked No. 2 in the state.
McElfresh said she anticipated that to be the toughest match of the season.
"I think people are taking it as if it were at the state finals just because the team is so good, and we obviously want to win to make it further." 
Despite the competition, the team brought back a 10-5 victory, advancing to Regional Finals. There, all of the girls doubles won, and three of the guy's doubles won. Mixed doubles won too, according to sophomore Briana Rees. 
"The match was good. Our doubles were strong, but singles was a tougher fight, she said. 
Now, that the team is on the way to the state semifinals, Rees said they are feeling confident.
"We have a great team, and I think we can do really well moving forward," she said.
About the Contributor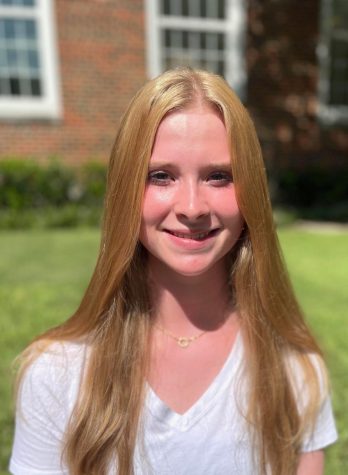 Katherine Harrell, Reporter
If she was stuck on a tropical island, what celebrity would she want to have stuck with her?
She would want
Sebastian Stan. 
What is her favorite dessert?
Her favorite dessert is brownies.
What are her top three favorite bands/artists?
Her favorites are Chase Atlantic, Kanye West and Doja Cat.