Record Number Of New Students Enroll
Students come from different states, countries
The U.S. was just a vacation spot for lifelong Argentinian freshman Carolina Frontera.
Then her return flight from Miami was canceled. Her family was stuck. 
With no way to return home for weeks, they decided to settle in Dallas, where they enrolled in HPHS. They're far from alone.
A record 151 new-to-the-district students enrolled in the high school as of Sept. 9. It's 27 more than the average over the last six years, according to Tammy Boetsch, the coordinator of new student enrollments. The figure includes another record number, 56, of new students who opted for early enrollment in May.
Because of open enrollments year round, more students can still enroll as the year progresses.
Boetsch suspects the increase in new students this year could be due to a variety of reasons, including the economic growth in Texas and as the result of COVID-19. 
"We get a lot of students every year from California, but we've probably had double this year," Boetsch said. "You can get a lot more for your home here in Dallas, and the job market is good here."
She said there were also many students coming from other parts of Texas, across the country and even internationally, as was the case for Frontera. 
While new student Nadya Smolinski, a sophomore, grew up in California, she has lived in a variety of places, including her birthplace of Chicago.
"We moved to Texas in fifth grade, and then, we moved back to California," Smolinski said. "We were there from sixth grade to freshman year, but then we moved half the year to Florida, and now we are here."
Smolinski and her family moved to Florida halfway through last school year and were planning to spend this school year in Palm Beach as well.
 However, Smolinski said it was important to her to be able to attend a private school in Florida, and there wasn't a spot in the private school Jupiter Christian for her little brother. Because of this, her family decided to move back to Texas.
The adjustment isn't too difficult, Smolinski said, mostly because when she lived in Texas during fifth grade, she attended McCulloch Intermediate School.
"It's not different coming back here," Smolinski said. "There are a whole lot of new people, but the people that I am hanging out with and sitting with are my friends from before."
Around 30 of the 151 new enrollments, including Smolinski, are students who have previously attended HPISD schools, then left and came back, according to Boetsch.
Another reason that the adjustment is not too challenging to Smolinski is she thinks that the difficulty of coursework in high schools is consistent across the country.
"Other than getting lost and trying to find my classes, I am fine," Smolinski said. "My teachers have helped a lot with planning everything out for me, asking me if I am good and letting me have time to catch up, so that's good."
Smolinski started attending school on Aug. 31, a week and a half after school officially began. However, she doesn't have much work to catch up on.
"It's basically just unit one in every class. But it's not that much work, it's not crazy," Smolinski said. 
Boetsch was surprised by the elevated number of students who enrolled later this year.
"I just couldn't figure out why on Aug. 15, 16, I was still getting applications," she said.
The record number of new students disrupted the administrative process, and a new electronic system, being used for the first time this year, slowed down enrollment. 
"It was crazy," she said. "I am the only one who does enrollments, and I was here probably three weeks before the counselors."
Frontera was one of the late enrollees, enrolling on Aug. 6. Her family's decision to stay in the U.S. was influenced by her parents' business.
"Right now, if you are not Argentinian, you cannot enter into the country," Frontera said. "The clients can't enter, so we came here."
Bringing items from Argentina was difficult, so she and her family had to buy new clothes and belongings in Dallas.
"We didn't know that we were going to stay, because we came for vacation," Frontera said. "We didn't bring a lot of clothes and stuff, so it's all the way over there."
She noticed several differences between the school systems in Dallas and Argentina.
"I like the way you can move around, like what you can do," Frontera said. "If you are bad in math, you can do regular. If you are good in math, you can do a high level. We don't have that in Argentina."
In Argentina, all the grades from kindergarten to high school are in one building. The numbers labeling the grades are also different. Frontera explained that in Argentina, once you reach what is considered ninth grade in Texas, the numbers start over.
"Ninth grade is first year, tenth grade is second year," Frontera explains.
Classes for first years usually start at 7:30 a.m. and end around 1:30 p.m., so students get two breaks where they can eat a snack but no lunch break. They eat lunch at home. 
Also, teachers moved to different classrooms at Frontera's old school.
 "You are always in your desk," she said. "You don't move, just for break, but here you have to cross all the school."
The start, end and vacation times are all different as well.
"We start school in March, and we finish school in December," Frontera said. "And our summer vacations are in February and January, and our winter vacations are in July."
Though the transition was jarring for Frontera, who until now, has never lived anywhere but Córdoba, she's adjusting.
"It is very different back in Argentina," Frontera said with a small smile. "I miss my friends, but I am meeting new people here, so it isn't too bad. Yes, I like it here."
About the Contributor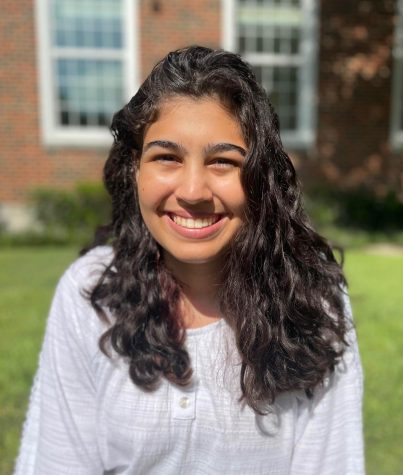 Elise Laharia, Features Editor
What are her top 3 favorite bands/artists?
She likes
Adele, Conan Gray and the Eagles. 
What is her go-to Starbucks order?
Her order is 
mango dragon fruit refresher with lemonade. 
What are her favorite movies?
Her favorite movies are "Holes" and "The Conjuring."