Officer Involved In Parkland Shooting Promotes School Safety Across Nation
Officer Mike Leonard implements new program
Officer Mike Leonard had no idea that he would be the one to apprehend the Parkland school shooter, Nikolas Cruz.
According to the Chicago Tribune, Cruz ditched his guns and blended in with escaping students to evade capture at Marjorie Stoneman Douglas High School. He then walked to a nearby Walmart and Subway. 
Officer Michael Leonard would catch up to him soon after. 
He was getting ready to buy his wife flowers during his lunch break when a captain alerted him of the shooting. Officer Leonard immediately drove to Parkland, which was a town over.
By the time Officer Leonard arrived at the command center, multiple law enforcement agencies were on the scene.
"I saw all these other agencies like Fort Lauderdale, Miramar, and I was like, wow, this is major," Officer Leonard said.
Then, Officer Leonard received a call that said police believe they saw the suspect at a Mcdonald's. 
"I used to work for Coral Springs Police Department . . . I know where this Mcdonald's is," Officer Leonard said. "All of Coral Springs' police officers are probably in the school, so I'm going to go check out this Mcdonald's tip."
When he arrived at the restaurant, he was met with two other officers who had already canvased the scene and came up empty-handed. 
Officer Leonard said detectives had been pouring through security cameras at the school and had a clothing description of the suspect. The shooter was wearing a burgundy shirt and black pants. Officer Leonard said he believes the shooter wore the school colors to get onto the school grounds and blend in.
In addition to this, they had the shooter's name to work with. 
Officer Leonard began to think. It had been 30 to 40 minutes since the last shot. The only way the shooter would escape would be on foot, considering how bad the traffic was around the school.
Officer Leonard began to drive further out towards a residential area. The area looked calmer and calmer the further he went. He got a feeling that he was moving in the wrong direction. But his intuition was correct. The shooter was there.
"I came around the corner, and I see a white male," Officer Leonard said. "He was walking away from me. He couldn't see me because I was coming up from behind him. He is walking down the sidewalk pretty fast and with a purpose. He had black jeans on, a burgundy shirt and a ball cap."
Officer Leonard slammed his door shut, alerting Cruz of his arrival. Officer Leonard immediately pulled his gun on him.
"All I could see was this kid," Officer Leonard said. 
At the time, his son was the same age as the shooter.
"My son was a senior at a neighboring high school and my daughter was at another nearby school," Officer Leonard said. "Just pointing the gun at this kid, this is not how it's supposed to happen. This isn't right."
Cruz lowered himself to the ground with his arms spread out. His hands were empty. Officer Leonard asked the suspect what his name was, and he responded, "Nikolas Cruz."
Officer Leonard then asked him. "Do you know what you've done?" Cruz responded with a simple "yes."
"If you move, I'll kill you," screamed Officer Leonard at the suspect. 
He then had to yell over the dozens of voices on the radio to announce that he had the suspect. Once he told them he had the gunman, the lines went silent. 
Officer Leonard kept the suspect on the ground at gunpoint until backup arrived. 
Once the suspect was in the hands of a SWAT team, Officer Leonard sat in his truck to take a breath. 
"I just started thinking about what just happened," Officer Leonard said. "I could still hear the radio and knew that there are dead people in the school just two miles away." 
He notes that he has had many emotional breakdowns since the incident, but credits his wife for being his support system. 
Cruz and Officer Leonard went to the same barber at one point. Officer Leonard can even remember seeing Cruz at age three in the barbershop.
"My wife texted me during this to ask if I was okay, and I left my phone in my truck, so I didn't respond," Officer Leonard said. "When I finally looked at my phone, I responded, 'I got him."
Officer Leonard has spoken with many of the parents of the students who were killed since the shooting. He said many thanked him for catching Cruz, but many were also upset with him. 
"I had one parent tell me that I should have killed him," Officer Leonard said. 
Officer Leonard acknowledges the parent's grief but said the suspect was complying with commands and therefore had no reason to shoot him. 
Nikolas Cruz has spent three years in solitary confinement at a local jail. Cruz is requesting life in prison instead of the death penalty. A trial date has not been set. 
Officer Leonard chooses not to watch media reports on the shooter to prevent his judgment from clouding his thoughts before the trial. 
"I hate that this happened," Officer Leonard said. "I wish it never happened. When it happens somewhere else, there's a disconnect. It's still tragic, but with this one, there are daily reminders."
Officer Leonard notes that it's challenging to be constantly reminded of the horrific day. 
He never wants this to happen again. He met with commissioners who came up with the idea of implementing dogs that can sniff out gunpowder on students in schools. Officer Leonard takes a dog to school with him to search for possible threats. There is one more month left to complete the pilot program.
Since the shooting, all of the schools in Broward county have switched to single-point entries. Officer Leonard and his dog sit at the entrance so the dog can scan students as they enter. 
"If you can smell a deodorant, [the dog] can smell that deodorant 50,000 times stronger," Officer Leonard said. 
In addition to this, dogs can compartmentalize odors. The dog can smell every soap and fragrance on you and separate the gunpowder from those other smells. 
The school board has been reluctant to accept the idea of allowing dogs to canvas the schools. Officer Leonard says board members believe the dog will target black students more than white students. 
According to Sun Sentinel, board chairwoman Rosalind Osgood, the only black member on the board, was against the idea because of a negative history with police dogs and black people. 
"I can tell you if I'm in a school and this dog comes near me, I'm going to start kicking it," Osgood said. "As a person of color, we've had dogs mistreat us. Dogs are not our friends."
Officer Leonard has invited the company that trains the dogs to try to win over the board. 
"These dogs see sniffing out gunpowder as a game," Officer Leonard said. "They don't care about skin color."
Officer Leonard has been visiting the school with his dog for two months. There have been no complaints from students, staff or teachers.
"We're hoping they continue with the program, but we will see," Officer Leonard said.
On the day of the shooting in Parkland, the school resource officer assigned to the school stayed outside the building. 
Leonard criticized his inaction.
"Every day when you put on your uniform, and you can't tell yourself that you would die for others, you probably shouldn't be in police work," Officer Leonard said. 
To prevent a deadly school shooting from happening again, Officer Leonard believes we need to begin monitoring kids at early ages for signs of violence. 
"The first things these shooters will do is be kill or be cruel to animals," Officer Leonard said. "They [commissioners] want to start a program to educate kids on how helpful animals are, and to deter them from harming animals." 
In response to the suggestion that teachers should have guns to defend schools, he doesn't know if a teacher would have the amount of time for training to arm them. In addition to this, he believes there is a lot of liability that comes with arming teachers. 
Officer Leonard says having many cameras and resource officers is key to protecting the safety of students. He also urges students and others not to be afraid of 'calling a code red' and alerting officers of possible threats.
Here, the district has taken several precautions to ensure the safety of students in the wake of school shootings in recent years. 
"Our camera system is on point," HPHS resource officer Terry Trail said. "We just upgraded our cameras to have a 360-degree view."
Officer Trail acknowledges the idea that metal detectors could potentially detect a weapon. Still, they also pose a security threat if many students need to flee the building during an emergency.
"Every summer, we respond to active shooter drills," Officer Trail said. 
He noted multiple emergency response agencies such as police, fire and medical personnel participate in the simulation. The school hires actors to play the hostiles and the wounded. 
"Before Columbine, the protocol was to create a perimeter, but now it is whoever responds to the scene first must enter the building and begin searching for the shooter," Officer Trail said. 
During this, the first officers on the scene are not supposed to tend to the wounded. Their sole mission is to find the shooter. 
Last school year, there was an active lockdown drill. A secretary accidentally hit a panic button. Officer Trail said he was proud of the first responders and how they responded to the situation. 
In addition to this, Officer Trail notes that through research, he has found many school shooters have similar qualities to each other, such as phrases they say and clothes they wear.
"We live in a crazy world, and there is a threat everywhere," Officer Trail said.
About the Writer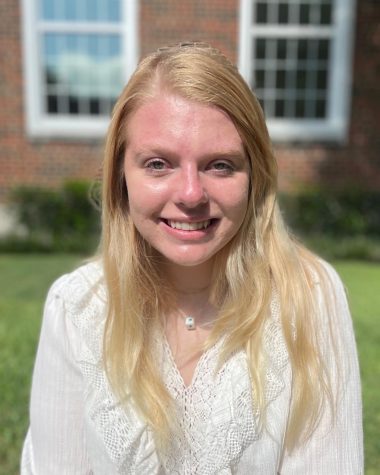 Reese Greenlee, Web Editor-in-Chief
What is her go-to Starbucks order?
Her order is an iced soy milk latte with caramel.
What are her favorite news sources?
Her go-to news sources are Vice News and The Economist. 
What is her favorite dessert?
Her favorite dessert is c
ookie cake.