Children Aid in Coronavirus Recovery
Vaccine companies begin testing young children and teens
On March 26, Pfizer administered its first dose directed towards kids and teens to a set of 9-year-old twins.
Earlier this year, pharmaceutical companies including the likes of Pfizer, Moderna and Johnson & Johson have turned to children as young as infants to begin with clinical trials.
In order to combat the pandemic, scientists and organizations like The Association for Professionals in Infection Control and Epidemiology have stressed the importance of reaching herd immunity, meaning 70 to 90% of a given population needs to be immune. As children are 24% of the U.S. population, vaccinating them will be crucial to meeting this goal.
Most children do not suffer serious effects from contracting the coronavirus. According to data from John Hopkins, between 0.6% to 6.9% of child cases end in hospitalization. However, they are still able to unwittingly pass it on to their friends, parents, teachers and older relatives.
"The longer we take to start kids in trials, the longer it will take them to get vaccinated and to break the chains of transmission," Dr. Yvonne Maldonado, a professor of pediatrics at Stanford University said to Kaiser Health News. "If you want kids to go back to school and not have the teachers terrified, you have to make sure they aren't a risk."
Although there are parents, pediatricians and doctors who are advocating for the trials to be conducted, there are also parents, pediatricians and doctors against testing the vaccine on children, at least for now.
According to Kaiser Health News, Dr. Cody Meissner, chief of pediatric infectious diseases at Tufts Medical Center and a member of the Food and Drug Administration's committee on vaccines, is afraid something in the vaccine triggers Multisystem Inflammatory Syndrome in Children, or MIC-S.
This syndrome is specifically related to and observed in children exposed to the coronavirus. MIC-S is a rare but potentially fatal condition. According to the Centers for Disease Control and Prevention, it causes inflammation in the heart, lungs, kidneys, brain, skin, eyes or gastrointestinal organs.  While the cause for the condition is still unknown,  it's symptoms are treatable.
Hospitals have seen an increase in MIC-S cases following spikes in coronavirus cases.
"I just have trouble justifying it [the vaccine] for children so unlikely to get the disease," Meissner said.
Other concerns surrounding the safety of the vaccines were focused on fears of infertility, something that would affect the children being tested on tremendously in the future. The claims started through conspiracy theories floated around the internet, and sparked reluctance towards getting the vaccine.
However, according to multiple statements, including one by the CDC, these claims are false. The CDC states "there is currently no evidence that any vaccines, including COVID-19 vaccines, cause fertility problems."
The article also mentions there is very limited data on vaccines' effect on pregnancies in general.
Laura Villasana, a Dallas resident, had a vaccine appointment for her 16-year-old when she decided to cancel it.
"At the moment, I feel nervous and unsure about getting my sons vaccinated," Villasana said. "I have been vaccinated and am very grateful for that, but I just don't know what the long-term ramifications are yet for children. After speaking to a doctor friend, I have decided to wait. I just don't know enough yet about how it might affect the younger population down the road."
Despite all of the fears, some parents see the benefits outweighing the risks, and others view the trials as an opportunity for their kids to serve the future of health.
Dr. Albert Ong, an Urology specialist in Florida signed his 13-year-old up for a clinical trial.
"We found out about the trials by word of mouth," Ong said. "They weren't widely publicized. The initial data from the phase one and two studies published in the major medical journals were encouraging, so we applied and were accepted into the trial in September 2020."
Brooks Marye, a Highland Park resident with two boys at the high school, signed her kids up for the vaccine.
"I was a little worried about side effects because one of my sons has asthma, so it made me a little nervous because of that," Marye said. "But he ended up doing fine. He was a little tired and that was it. If I had a seven or eight-year-old, I might be worried because of their age."
Ong stated they waited so they would better understand the risks and outcomes of the prior testing and to see if the vaccines were successful.
"Phase three testing was needed to see if people receiving the vaccine would have bad outcomes when challenged with coronavirus," Ong said. "People who had coronavirus [before testing] didn't get sick again when exposed to wild type coronavirus [in the testing], so the new vaccines appeared to be promising."
Texas-based clinical trials, like the one Ong sighned his daughter up for, have opened up their services. A Collin County clinic called ACRC Trials opened up testing for the vaccine on infants as young as six months and children as old as 11. Similarly, Pininos Pediatric Clinic is the only clinic in El Paso participating in the study.
Although Ong enrolled his daughter in the trials, he said it could be difficult to tell whether the vaccine works in children.
"Children tend to have less severe disease than adults with a lower rate of complications," Ong said. "The testing may have difficulty showing benefit in children because nobody is getting sick, due to large amounts of people with asymptomatic disease. It's hard to show a difference if you can't see a difference."
For this reason, Ong could not state whether or not he would recommend the vaccine to children.
However, Marye did.
"I think the more people, children included, that can get vaccinated the more likely we will reach something to the effect of herd immunity that protects our country and our world," Marye said. "The more people we can get vaccinated, the better."
About the Contributor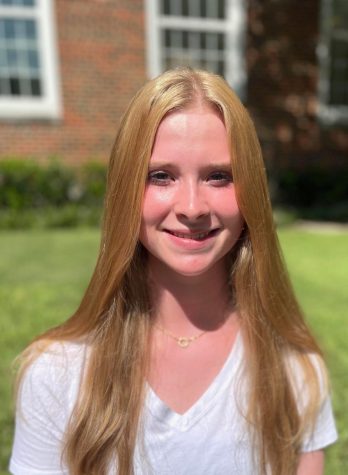 Katherine Harrell, Reporter
If she was stuck on a tropical island, what celebrity would she want to have stuck with her?
She would want
Sebastian Stan. 
What is her favorite dessert?
Her favorite dessert is brownies.
What are her top three favorite bands/artists?
Her favorites are Chase Atlantic, Kanye West and Doja Cat.