Youngest Poet In History Speaks At Presidential Inauguration
Amanda Gorman Recites Poetry For The Nation
On Wednesday, January 20, Amanda Gorman made history.
The ambitious 22-year-old poet recited her poem, "The Hill We Climb," for the entire nation as they watched President Joe Biden and Vice President Kamala get sworn into the White House. The poem celebrated the grit and hardship Americans have struggled through. 
Gorman was born and raised in Los Angeles along with her twin sister. The two were raised by their single mother, Joan Wicks, who taught sixth grade English at an inner-city public school.
"Having a mother as a sixth grade English teacher gave me an up-close and personal view of how literacy influences young students," Gorman said to Study Breaks in 2017.
Wicks's pivotal influence on education allowed her daughters to be successful throughout their careers.  
"I realized that education can be a life or death resource . . . School and college can be a pathway to get off the streets, to break a cycle," Gorman said to Study Breaks in 2017. 
Gorman acknowledges both the struggles of achieving an education and the importance of obtaining one. 
Gorman was 16 when she was named Los Angeles's first Youth Poet Laureate in 2014. Her title was given to her by the city of Los Angeles for her passion for racial and gender equality. Shortly after her award in 2014, Gorman released her first poetry collection "The One for Whom Food Is Not Enough" in 2016. 
While attending Harvard University in 2017, 19 year-old Gorman was named The Nation's Youth Poet Laureate under the Librarian of Congress and served an eight month term. During her time as the U.S. national poet, she raised awareness for the appreciation of reading and writing poetry. 
On January 20, 2021, Gorman made history as she was the youngest poet to ever speak at the inauguration. Impressed by Gorman's work, Dr. Jill Biden knew she would be the perfect candidate to speak at the inauguration. On this day, Gorman recited her poem "The Hill We Climb." 
"I think her poem at the inauguration was the perfect choice to start the Biden presidency," sophomore Sofi Mesinas said. "It's really inspirational that she's so young and doing so much."
 Creator of the hit Broadway show 'Hamilton," Lin Manuel Miranda, along with countless other celebrities were moved by Gorman's speech. While on the morning talk show Good Morning America, Miranda's prerecorded praise almost surprised Gorman out of her chair.
"The right words in the right order can change the world, and you proved that yesterday with your brilliant piece," he said. "I'm so incredibly proud of you and I can't wait to see what you write next. Keep changing the world, one word at a time. You smashed it."
Miranda wasn't the only one left speechless by Gorman's poem. Former first lady Michelle Obama also expressed her admiration for the young poet. This year the former first lady sat down with Gorman on Feb. 2 and discussed topics ranging from poetry, her childhood, activism and Gorman as a "symbol of hope."
"I think she is a very inspirational person and it was great seeing women representing in the White House" sophomore Lindsey Bird said.
On Super Bowl Sunday, Gorman became the first poet to ever speak at the annual event. The poem recited during the pregame festivities was titled the "Chorus of the Captains."
"It was very inspirational, and I appreciate how passionate she was when she was speaking," sophomore Alessia Cordray said. 
The poem was dedicated as a tribute to three people as a contribution for their work during the pandemic. Educator Tramine Davis, nurse manager Susie Dorner and Marine Veteran James Martin. 
Whether at the presidential inuaguration or the Super Bowl, Gorman's voice is being heard, and her talents are being recognized. 
"If she's this young and doing this much I think she for sure has a lot of more big things coming in her future," Mesinas said.
About the Contributor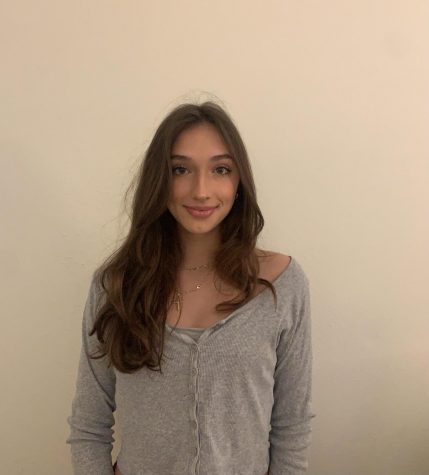 Lauren Leyrer, Reporter
What is her typical Starbucks order?
Her Starbucks order is an Iced Caramel Macchiato with an extra shot of espresso. 
What type of music does she like to listen to?
Her favorite music genre is R&B.
What is your favorite ice cream flavor?
Her favorite ice cream flavor is cookies and cream.