Academic Decathlon Wins Region X Title
Team now preparing for virtual state tournament
The academic decathlon team won the Region X title, finishing first out of 18 teams, and individual students earning top awards after several days of competition in January at John Paul II High School. 
The team competed in Plano for the objective tests and the super quiz and performed through Zoom meetings for the essay, speech and interview competitions. 
For academic decathlon, there are three divisions based on GPA. The divisions are varsity, scholastic and honors, and students compete against others from their same division for medals in each decathlon event.
The team has worked all season in preparing for the spring and started practice as early as they could. In the honors division, junior Daniel Carillo placed first overall, junior Ryan Carmack placed second and junior Kai Tsuei placed third. 
"A lot of other teams don't start seriously preparing until a month or two before the competition, but we started at the very beginning of the school year," Carillo said. 
Students were required to wear masks, maintain social distancing and remain in the designated areas with their teams throughout the day.
In the varsity division, senior Mackenna Bierschenk finished first overall. Junior Jack Jiang finished third, and junior Jaspen Chen finished fourth. 
"We prepared by reading and studying, and usually, we get together in the AcDec classroom and read, sometimes up to 10 hours at once," Bierschenk said. "Everyone on the team has a different method for studying. For example, I like to make detailed Quizlets or take handwritten notes." 
In the scholastic division, senior Matthew Winters placed first overall. Junior Karina Zaydler finished second, and senior Pike Dzurny placed third. 
The team awards ceremony was held virtually due to the coronavirus, with individual awards also given at this time to those who ranked top overall. Along with winning the region title, the team also won the super quiz competition.
The team will virtually compete to defend the state championship they won last year.
"The Dulles team in Houston is our biggest competition, as we beat them with a fairly small margin last year, and this year, their team performed well at their regionals, so we will see what happens at state," Bierschenk said. 
About the Contributor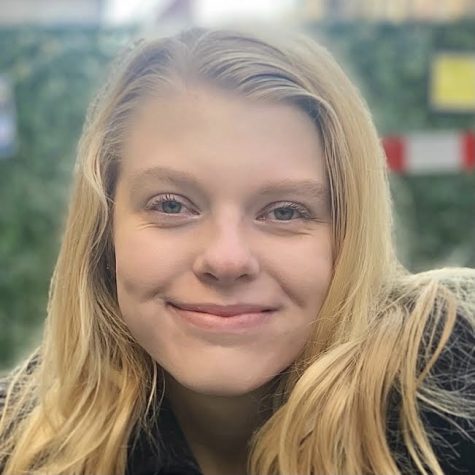 Reese Greenlee, Reporter
What are some of her interests outside of Bagpipe?
She plays lacrosse and likes to snowboard
What is her dream job?
Her dream job would be to open a law firm in the Middle East and become a diplomat in her later years
What is her go-to news source?
Her go-to news sources are CNN and The Economist