Science And Technology Festival Goes Remote
Coronavirus forces yet another annual event to change
The Science and Technology Festival returns for its 15th year of providing students with expert presenters on Friday, Feb. 5.
"The point is to talk about careers in science and technology and just provide some substance behind the classes kids are in,"  said science department head Meredith Townsend.
In the past, co-chair of the festival committee Amy Shawver said around 50 speakers would come to the school and present to the students in person.
"All the students during their science or technology period would go and attend, in a different classroom, a presentation by a guest speaker," Shawver said
However, this year, changes have been made. Some speakers have pre-recorded their presentations for the school to send the students, while others are going to be presenting live on a Google Meet.
"Students will just watch it from their normal classroom during their science or technology class on their own computer, wearing headphones," Shawver said. "So everyone in your science class will be sitting there on their own computer, and they are going to be watching around 25 different presentations at the same time."
On top of that, there are about half as many speakers this year. Because an unlimited number of students can watch the pre-recorded presentations, and around 50 students can watch the live Google Meets, there is no need for so many speakers.
"This year we only have about 20 to 25 presenters, so about half, because people didn't want to do it as much," Townsend said.
She thinks the reason behind the lower number of speakers this year is because it may seem harder or scarier.
"Who wants to talk to teenagers on a Google Meet? It's a scary thing if you're not a teacher, and you're not used to it," she said.
To find the speakers in attendance, the committee went through a process.
"We sent out invitations to the speakers that spoke last year," Shawver said. "Then we email them an invitation, and depending on how many say they are willing to come back or able to come back, then we see how many spots we still need to fill."
The committee and organizers also pay attention to how well the presentations were received.
"We also do surveys, and if they weren't very interesting, we don't always call them back," Townsend said. "We want interesting people that kids can connect to."
After that, the organizers mostly rely on word of mouth and connections.
"Some people in the festival committee know people that are in science or technology, so they invited their friends or family members to come and speak," Shawver said.
If they were still short some speakers, the committee would then send out a news article in the HPISD newsletter.
The newsletter is how speaker, Dr. Daniel Davis learned about the festival.
"I looked at the presenters and got the great idea to be able to offer my experience in robotic surgery," Davis said.
Davis collaborated and agreed to share the time with Dr. Richard Salter, who was presenting on robotic surgery, and then reached out to the organizers.
Davis is the Chief of the Metabolic and Weight Loss surgical program at Baylor University Medical Center of Dallas.
"My area of specialty is minimal invasive surgery, and what I've been involved in for around 20 years now is approaching surgery by using minimally invasive techniques such as laparoscopy and robotic," Davis said.
Typically, Davis and Salter discuss the history of robotic surgery and give a demonstration of how robotics and medicine merged.
"Before the coronavirus, we would actually have a robot on the stage, and the students would be able to see how to use the robot using the application that we have available to them," Davis said.
The robot that Davis has brought in the past to the festival is called the Da Vinci robot. Intuitive Surgical is the only robotic company in the U.S. with the approval by the Food and Drug Administration for the robot Da Vinci.
"Typically the Da Vinci robot is a huge hit with all our juniors and seniors, and this year, they are not coming [in person], so it's a big bummer because it's very hands-on," Townsend said.
Though the festival's hands-on nature changed, Townsend and parent volunteers involved in organizing the event tried to preserve the purpose of the annual festival as much as possible.
"We didn't want to scrap it this year, we wanted to try and put out something, so this is kind of what it's come to," Townsend said. "But if it wasn't for the parent volunteers, it wouldn't have gotten done."
About the Writer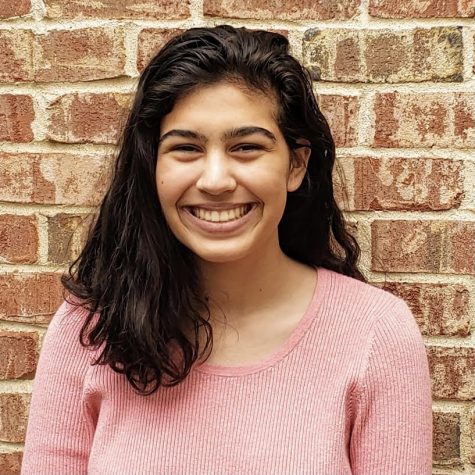 Elise Laharia, Reporter
What is her favorite ice cream flavor?
Her favorite ice cream flavors are strawberry and mint chocolate chip
What will you find her listening to on the weekends?
She listens to practically all music except rap, unless she's with other people. Then, she would listen to their music because she thinks it is a great way to get to know people.
When she's not working on the Bagpipe, what is she doing?
She likes to watch Netflix and read books.