Girls Gymnastics Leaps To Win
Recent win sets off good start for team
The gymnastics team won against Lakeview Centennial with a final score of 104.45 on Thursday, Feb. 4.
"It's our second home meet in a row, which is really cool because we didn't even have that many last year without COVID," junior Riley Riedman said. "It means the start of the new year, which is exciting."
The events they competed in included vault, uneven bars, floor exercise and balance beam. This win brings their season stats to four wins and one loss.
Freshman Ana Simpson won second in all-around, meaning she competed in every event. She beat her personal best on vault with an impressive 9.7 out of 10. Simpson consistently received second place in every event, except floor exercise, in which she placed fifth.
"I feel like I have improved a lot since the last meet," Simpson said. "I felt more ready to compete this time."
Parents supported the team in the stands and on the ground, walking around and filming their performances. Teammates cheered each other on throughout the entire meet.
"I'm very proud of all the girls," junior captain Linda Tran said. "They did so good. You can definitely see improvement from last week."
The team had a successful meet, with the girls placing in the top six in every event.
"This meet gets us going," Tran said. "It shows that we are ready and we can take on whatever comes next."
About the Writer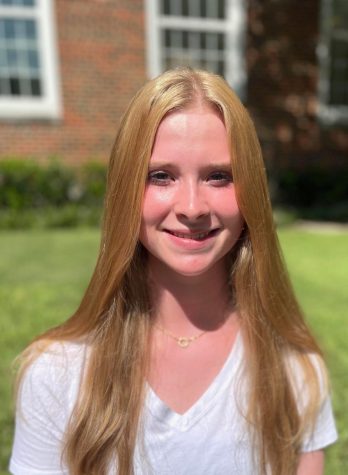 Katherine Harrell, Reporter
If she was stuck on a tropical island, what celebrity would she want to have stuck with her?
She would want
Sebastian Stan. 
What is her favorite dessert?
Her favorite dessert is brownies.
What are her top three favorite bands/artists?
Her favorites are Chase Atlantic, Kanye West and Doja Cat.