'90s and 2000s Trends Come Back Full Swing
Clothing crazes from past decades start reappearing
Depending on if you grew up during the 2000s, one may have never been able to experience the comfort of the velour tracksuit or witness some of the most ionic Y2K looks.
Luckily, these trends are making a comeback in 2020.
Denim was a factor in so many looks from the early 2000s era. Whether it was low rise pants, capris or jeans with a bedazzled back pocket, they all were heavily featured in the decade.
Britney Spears and Justin Timberlake sported one of the most iconic denim looks from the early 2000s. Spears wore a multi-toned denim dress with a matching denim sequin purse, while Timberlake dressed in a denim blazer with a pair of jeans and denim fedora. Earlier this year, Timberlake was interviewed by former NSYNC performer Lance Bass on his podcast, "The Daily Popcast." During the interview, Bass asked him about the infamous looks he took part in, including his denim on denim look with ex-girlfriend Britney Spears.
"Look man, you do a lot of things when you are young and in love, man," Timberlake said. "That's what you do."
Christina Aguilera, Denise Richards and Kelly Clarkson all sported the low rise denim look on the red carpet.
Low rise jeans are becoming extremely popular, and as of recently, stores like I AM GIA, Shein and Motel Rocks pair almost every single one of their tops with a pair of baggy low risers. Whether you find them by thrifting or at a vintage store, it's easy to find a pair of jeans with similarities to the 2000s.
Baby doll tops, commonly cropped thin strapped tank tops usually tighter at the top with a flowy bodice, were worn on the streets and seen throughout the music world. Former pop group, Destiny's Child, modeled many of these classic tanks. During a show, the group wore toned thin strapped floral tanks embellished with sequins.
Brands like Victoria's Secret and Free People are currently creating their own version of the baby doll top, many of which include a corset-like structured bodice with lace detailing.
Velour tracksuits were all the rage in the 2000s. Celebrities like Paris Hilton and Nicole Richie were seen across the world sporting these suits, and the two played a huge role in the Juicy Couture era. Brands like Fashion Nova, Dolls Kill and Urban Outfitters are all recreating the classic 2000s suit.
"As soon as I first put on my first Juicy tracksuit, I was obsessed," Hilton says to Vogue magazine during an interview on Dec. 18, 2019.
These tracksuits went from loungewear to film sets and even award shows. For many, it became a daily uniform.
"Yes, I want the tracksuit to come back. It's so iconic, like imagine walking a dog in a Juicy tracksuit down the street," sophomore Chloe Nugent said.
The idea of velour tracksuits making a comeback is appealing to some.
"Personally I would wear one, but I think that since it was a trend from the 2000s, you definitely won't see as many people wearing them," sophomore Tori Acquista says.
Shoes from the 2000s fluctuated between chunky heeled sandals, flip flops and thin strappy pumps. Similar to the embellished denim, flats and heels were also bedazzled or embellished in some way.
Thin strappy heels have taken 2020 by storm. Brands like Zara and Princess Polly have created their own heels with minimalist color schemes and only a few thin straps.
The baguette bag is a small slouchy shoulder bag with a semi-cylindrical shape made up of either vintage fabric or some form of leather. The bag was first designed by the brand, Fendi, in the 1990s, but really gained its fame after its debut in the movie "Sex in the City." According to Forbes magazine, the baguette bag became a worldwide phenomenon after star Carrie Bradshaw deemed it her go-to purse.
Luxury brands like Prada, Louis Vuitton and Gucci are all recreating the classic shoulder bag with twists on it by including old prints and patterns from prior years. More mainstream brands like Zaful, Asos and Amazon are also featuring their own designs of the 2000s staple.
Trends are all one big cycle and are constantly evolving. The revival of these famous designs could be the beginning of much more to come.
About the Contributor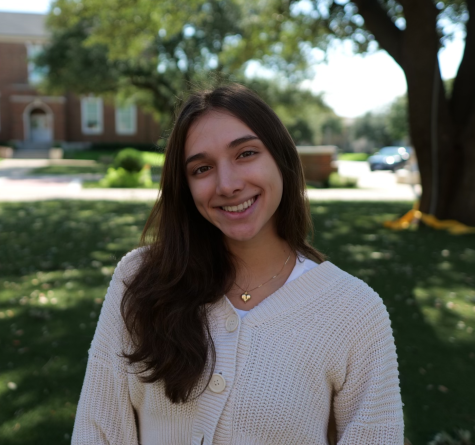 Lauren Leyrer, Social media manager
What is your zodiac sign?

Virgo

What is your favorite dessert?

Apple pie with ice cream

Top 3 bands...

Her's, Lana Del Rey and Travis Scott