Varsity Football Overpowered At Regional Football Final
State championship run ends at regionals
Devastation and cries of victory filled the Globe Life Stadium as the clock counted down to zero, marking the end of the state championship journey for the varsity football team.
The Denton Ryan Raiders defeated the football team 17-7 in a defensive struggle in the Class 5A Division I Region II final on Jan. 1.  
The varsity team eliminated Ryan in the state semifinals three consecutive years from 2016-18 before Ryan defeated Frisco Lone Star in 2019 for a state runner-up finish. Ryan defeated the Scots for the first time since 2004 by holding to their lowest point total since a 44-4 loss to Aledo in 2013. 
The statistics suggested it would be a close game, looking more like a state final game than a regional final, with both offenses averaging over 40 points going into the game.
The varsity football team was averaging 43.6 points and, but during the game had only three plays of more than 18 yards and punted six times, two more punts than in the first three playoff games combined.
During the game they managed 229 yards- 89 of which was during a scoreless second half- which totaled to barely half of their game average of 454.6 yards. Three-star quarterback Brayden Schager, committed to the University of Hawaii, only 13 of 33 for 165 yards, had one touchdown pass and one interception after accounting for 32 touchdowns in the first 11 games.
The first touchdown of the game was scored by University of Texas commit Ja'Tavion Sanders after a one-handed catch for an eight-yard score, giving Denton Ryan a 7-0 lead only two minutes into the game.
Schager showed he would not go down without a fight as the first quarter came to a close. Schager found his receiver Crockett Corwin for a 29-yard touchdown to cut the Raiders' lead in half, 14-7, with just 20 seconds left in the first quarter.

In the second quarter, the Raiders blocked the field goal attempt midway through the period before making a 34-yard field goal as time expired to take a 17-7 lead into halftime.

In the third quarter, the Raiders presented multiple chances for the the Scots to sneak back in while both teams picked off passes on back-to-back possessions.
The plays were the same in the fourth quarter as the team made an interception with ten minutes left, but the Raiders responded by forcing a turnover. The closing minutes saw Highland Park throw a late interception as Ryan held off the to earn victory.

"I was disappointed with the loss but very proud of the team, as the team did everything I asked them to do," head coach Randy Allen said. "They played as hard as they could play for 48 minutes and gave it all they had. Sometimes in the playoffs, it's not your day."

"
They played as hard as they could play for 48 minutes and gave it all they had."
— Coach Allen
Although the season came to an early end in playoffs, the Scots earned plenty of individual awards and team success after an undefeated regular season and three playoff victories.

Captain Patrick Turner has spent the last three years on varsity and is committed to the Naval Academy for football.

"[The loss] was a little bit of a shock, we had some injuries on offense that held us back, but at the end of the day, they beat us," Turner said. "If we got to play them again, I think you would see a different outcome, but I'm still proud of my team. We went out swinging and left everything on the field, and there are no other colors I'd rather be wearing."

Schager was named the Most Valuable Player of District 7-5A Division I. Schager passed 3,102 yards and scored 24 touchdowns while leading the team to an 11-1 season.

Among the other all-district superlatives, junior punter Jack Stone was honored as the district's special teams player of the year. Additionally, Randy Allen was named as coach of the year.

"The 2020 Football Team will long be remembered for their great leadership and teamwork," Allen said. "Their determination and commitment to overcome any adversity to have a great season. I enjoyed coaching this football team very much, and they had a great season and left HP Football better than they found it."

The team was well represented among first-team all-district honorees. Five selections were unanimous, including offensive linemen Jack Leyrer and Henry Hagenbuch, receivers Will Pettijohn and Crockett Corwin and linebacker George Wright.

Other first-team players included offensive linemen Sam Morse, Grant Gibson and Will Gibson, running back Brooks Bond, defensive linemen Isaiah Pedack and Jack Curtis, linebackers Marshall Landwehr, Patrick Turner and Henry Diehl, cornerback Johnny Herring and safety Walker Cobb.

Although the season came to an end without a championship, the returning players said they continue to look towards the future and preparing for the next season.

"The seniors are extremely disappointed it ended the way it did, but we are extremely thankful that we get to play for Highland Park and be supported by the best fans in the state," Turner said. "It's going to be hard to say goodbye, but this class's legacy will continue to be seen for years to come."
About the Contributor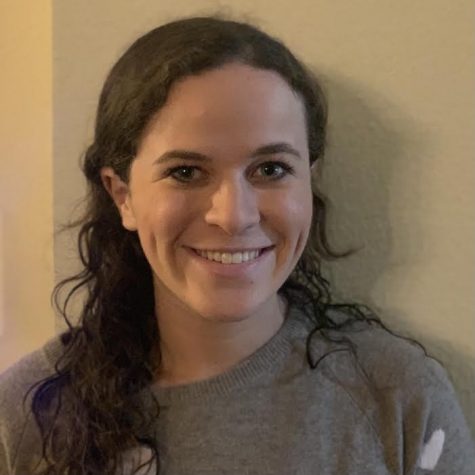 Sarah Rogers, News Editor
What are some of her hobbies outside of Bagpipe?
She plays golf
What kind. of music does she listen to?
She loves country music
What is her dream job?
Her dream jobs are to be a Nascar driver or a UN Diplomat