Review: Netflix's "The Holidate" A Fun-Filled Romantic Comedy
New Christmas movie perfect for watching over winter break
Netflix original "The Holidate," directed by John Whitesell and starring Emma Roberts and Luke Bracey, is a hilarious, heartwarming cinematic experience that puts a whole new spin on holiday movies.
The newly released 2020 film was set in festive Evanston, Chicago. Sloane, the main character played by Roberts, is an easy character to empathize, as she is majorly struggling with trust issues from her last relationship at the beginning of the film.
The pressure from her mother Elaine, played by Frances Fisher, who is eager for her to get married, along with the additional stress of the holiday season, leaves Sloane looking for an easy solution.
Meanwhile, Jackson, an Australian golf pro, gets ghosted by his ex-girlfriend back in Sydney, Australia which leads him looking for a new fling. Fed up with being single on the holidays Sloane and Jackson both decide to be each other's so-called "Holidates."
The idea of a "Holidate" was inspired by Sloane's aunt, Susan, played by Kristen Chenoweth. Every holiday Susan brings home a new man for the night, so she never has to worry about committing to one man.
In her role as Sloane, Roberts embraced the definition of a pessimistic, hopeless 20-something-year-old. Writer Tiffany Paulsen perfectly creates a relatable character who struggles with self image, breakup and stress of family and the holiday season. Roberts did a great job and embodied her character, as well as Luke Bracey. I would give their acting 4 stars because I did cringe a lot at the beginning.
I would recommend this movie because it can be watched year round not just during the winter holidays. Although I wouldn't say this about many romantic comedies, I would definitely watch this movie again. With "The Hollidate," I was hooked the whole time and was in awe at the end.
Overall I would rate "The Hollidate" 4.5 stars because it is a new take on modern issues in the dating world. Ghosting, pressure from families and inner struggles are all something that a younger audience can usually relate to in this day and age. Though it is far from the typical cutesy Hallmark film, it still captures the essence and romance of a Christmas movie.
About the Contributor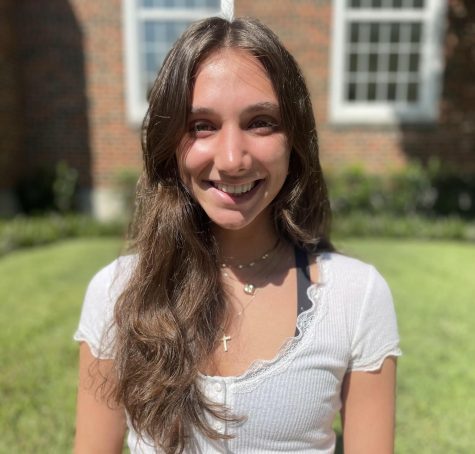 Lauren Leyrer, Social Media Manager
What is her biggest fear?
Her biggest fear is being in a plane crash.  
Does she have any pets?
She has two dogs named Bradey and Millie.
What is her favorite show?
Her favorite show is "American Horror Story."