Scot Athletes Honored On National Signing Day
National signing day ceremony held over Google Meet
Ten student-athletes signed letters of intent to continue their athletic careers at the collegiate level on Wednesday, Nov. 11, which was held as virtual event due to coronavirus.
Men's golfer Key Coker committed to Dallas Baptist University, and golfer Hudson Weibel committed to The University of Oklahoma.
The University of Oklahoma celebrated the signing day over its social media platforms. Weibel was one of only three to be signed by the college. He won the 2020 Lanny Wadkins Cup and finished in the top-three 19 times as a junior golfer. According to the Official Oklahoma website, "The Sooners are ranked No. 1 in the Golfweek/Sagarin rankings heading into the spring season."
For women's soccer, Keller Matise signed to The University of Arkansas; Quinn Cornog signed to Vanderbilt University; Emily Jane Cox signed to the University of Texas at Austin; and Maja Davison signed to Georgetown.
Matise was one of 10 signed by Arkansas. She is a seven-year captain for Sting Dallas Club and was invited to the 2019 Club National Selection game. Additionally, Cornog is one of eight to be signed to Vanderbilt's team. She is ranked as the nation's seventh midfielder and 22nd overall player.
"The top two schools I was really looking at were Vanderbilt and Notre Dame," Cornog said. "Both programs reached out to me and thought I was good and would fit in well with their soccer program. They both put offers on the table, and then I just chose what school I thought I fit better with."
Cox was one of eight to be signed to the University of Texas. She is ranked third for defender and 10th for overall best player for the class of IMG Academy Top 150 national player rankings. She led her club team to victory multiple times, one example being a 2019 U-16/U-17 Development Academy National Championship.
Cross country and track, along with volleyball also celebrated athletes Wednesday. Runner Cameron Fawcett committed to Vanderbilt University, and runner Meredith Sims committed to Duke University. Volleyball player Anna Claire Nichol signed with Wake Forest University, and her teammate Kennedy Westendorff will play at The University of South Carolina.
Another round of student athletes will be recognized in the spring's signing day.
About the Contributor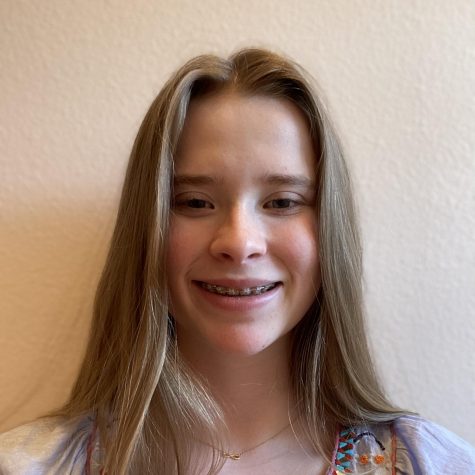 Katherine Harrell, Reporter
What is your go-to news source?

New York Times

What is your dream job?

Equine Veterinarian

Tell me your favorite dad joke.

"I'm hungry" "Hi hungry!"