Dallas Cowboys quarterback Dak Prescott faces an uphill climb after a potential season-ending ankle injury.
The Dallas Cowboys played against the New York Giants in Arlington, Texas on Oct. 11. The Cowboys were leading 24-23 during the third quarter when Prescott ran a play for additional yards. Giants defensive back Logan Ryan caught and dragged Prescott down, causing an ankle injury to Prescott.
Prescott's injury was a compound fracture and dislocation to his right ankle, according to ESPN. Prescott was taken to a local hospital soon after the injury and was immediately treated and underwent surgery that night. Cowboys head coach Mike McCarthy told the media Prescott's surgery went well.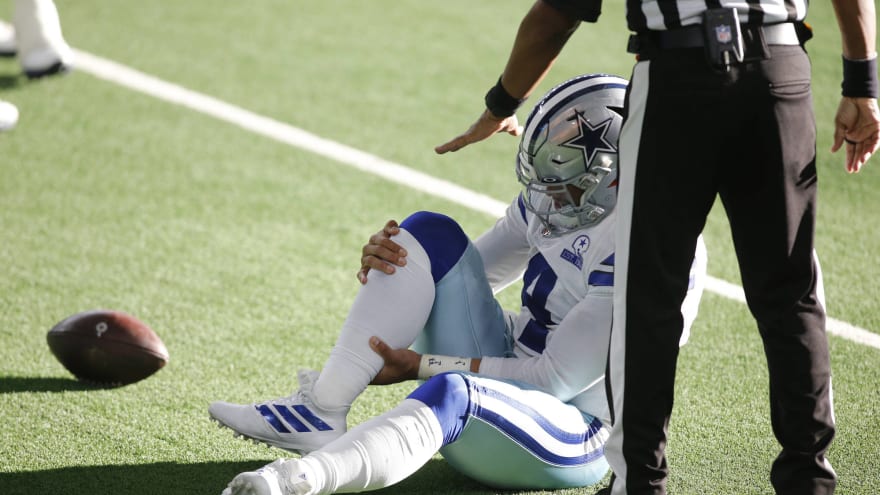 Following his surgery, media outlets and sources are expressing inconsistent information regarding the time frame of Prescott's comeback. Prescott will likely return at the start of the 2021 season, according to Sportscasting, a sports news website. The cowboys are making sure that Dak comes back healthy, and ready to play on the field again.
"I'll be back stronger and better. Thank you all," Prescott said on Instagram.
Although many are unsure about Prescott's official return date, NFL network's Jane Slater said that Dak's recovery would be anywhere from a four to six month time period.
"If you look ahead, he should be ready to go for our spring work and the latter part of the spring work," Dallas Cowboys owner Jerry Jones said to 105.3 The Fan, a commercial radio station in Dallas. "But knowing Dak, and that's a big part of this thing…knowing Dak and his makeup…he'll be back out there soon."
Andy Dalton, former Bengals quarterback stepped in for Prescott as he led the Cowboys to a 34-37 win against the Giants. Although the Giants game was a success, the game against the Cardinals was a dramatic turnover when running back Ezekiel Elliot fumbled twice. The Arizona Cardinals took over the game leading with a 38-10.
Even after a tough loss against the Cardinals, Dalton will continue to play as the starting quarterback following Prescott's injury and attempt to take his team to the playoffs.
With the status of Prescott's return still up in the air, Cowboy's fans are now wondering how Prescott's injury will affect his future career with the Cowboys.
Dak is currently under a franchise tag, which guarantees him $31.4 million for the 2020 season, according to ESPN. A franchise tag is when a player is paid average or more than the top five salaries of the player's position. A team will tag a player so the general managers have the privilege to retain valuable players who are free agents. This also allows teams to continue to search for talented players through the NFL draft as well.
The Cowboys have few options for Dak and his future at the Cowboys. One offer Jones can conduct is a contract extension, which they have tried to accomplish in the past, but officials say their best bet is a second franchise.
If the Cowboys can persuade Prescott for a second franchise, they will likely offer him a one year deal of $37.7 million for the 2021 season. Prescott has typically wanted year-by-year deals as the cap amount rises each year. This is common among franchise tag players who desire a bigger paycheck.
Although Prescott is wanting a year by year deal, Dallas tends to make long term contracts to remain in control of their players, while leaving flexibility for the cap prices. Prescott takes up 14.4 percent of the Cowboys cap space, according to ESPN.
Once Prescott's contract is agreed by all parties, the cap percentage will rise to 18.9 percent in the 2021 season. If Prescott's salary rapidly grows over the next season, this could create tension within the locker room as other teammates would then be paid slightly less by the Cowboys.
Aside from how Prescott's contract will be handled, the biggest concern at the moment for the Cowboys and fans is to see him back on the field in a Cowboys uniform.
"He's our future," Stephen Jones, Chief Operating Officer and Executive Vice President of the Cowboys said. "He's special. If anyone can overcome anything, it would be Dak."