Biden
Former Vice President Joe Biden grew up in Scranton, Pennsylvania. Biden credits his parents with instilling in him a good work ethic and perseverance.
During his teenage years, his family moved to Mayfield, Delaware. After finishing high school, Biden attended the University of Delaware, then went to Syracuse University Law School.
After graduating, Biden practiced at a local Delaware law firm and became an active member of the Democratic party. He later turned to politics after a short time spent working as a lawyer and was later elected into the U.S. Senate at the age of 29, becoming the fifth-youngest senator in the nation's history. He held this position from 1973 to 2009.
In 2007, 20 years on initial attempt at presidential bid, Biden once again decided to run for the presidency. However, he failed to generate momentum in a field that was dominated by Barack Obama and Hillary Clinton. Several months into the nomination process after Obama secured the Democratic nomination, Biden was selected as his running mate, later becoming the Vice President.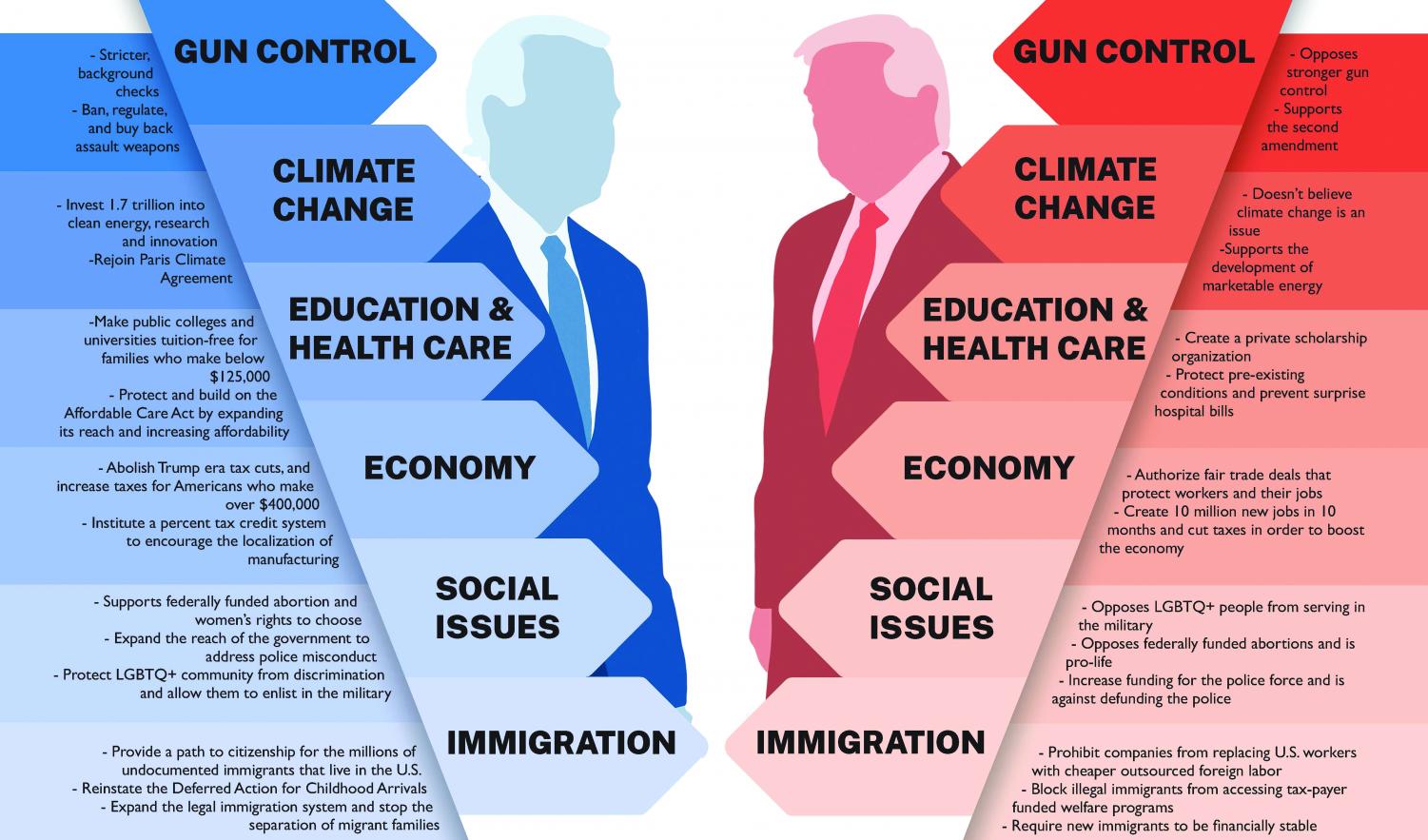 TRUMP
President Donald Trump grew up in Queens, New York. While growing, up his family's wealth increased greatly due to a postwar real estate boom.
The Trumps sent their son to the New York Military Academy. He later went on to the University Of Pennsylvania where young Trump helped his father with his real estate business during his summers. He graduated from the Wharton School of Business.
After college, Trump took to the family business and helped grow it through ventures like The Trump Organization, Trump Tower, television franchises like "The Apprentice" and the Miss Universe pageant.
Trump has business deals with the Javits Center and the Grand Hyatt New York, as well as other real estate ventures in New York City, Florida and Los Angeles.
After a successful business and celebrity career, Trump turned to politics, promising at the time to "drain the swamp." In 2016, he won the majority of electoral college votes, gaining his position as the current president.