Ramsey Watkins Leads As Yoga Instructor
senior enjoys healthier lifestyle for mind and body
Senior Ramsey Watkins took training at Black Swan Yoga to become a yoga instructor last summer.
She now teaches yoga classes every Saturday evening. 
Before taking teacher training, Watkins played golf. She realized, though, golf wasn't the sport for her, and she wanted to do something different. 
A friend convinced her to try Black Swan Yoga which is a fully heated studio. Watkins was hesitant at first. 
"I really didn't like the idea of hot yoga, but once I tried it, I loved it," Watkins said. "I knew immediately that this was something I wanted to continue."
Paying for a membership was the first obstacle Watkins had to overcome. Her monthly allowance from her parents wouldn't cover the recurring $88 needed. She emailed Black Swan Yoga to see if there was anything she could do to get the membership. 
"They emailed me back to let me know I could volunteer at the studio to get free yoga,"  Watkins said. "So I started volunteering on Saturday mornings for three hours. This covered my membership for the week."
While she volunteered, she got the opportunity to get to know everyone at the studio. They pushed her to sign up for yoga teacher training, but she wasn't interested. Though, according to Watkins, she signed up anyway.
Teacher training took place during the months of July and August for four-and-a-half weeks. The program was five-days a week for 10-hours a day. While this was going on, Watkins was also lifeguarding. 
"It was hard," Watkins said. "I was doing teacher training, lifeguarding and hanging out with friends. I was exhausted, but it was the best experience." 
Through yoga training, Watkins felt the best part was learning more about herself.  
"I learned how to handle certain situations and how to deal with people and to treat them with kindness," she said.
Now that her training is over, Watkins teaches a yoga class every Saturday at 5:30 p.m. 
"This might seem like the worst time to teach, but I have really enjoyed it because I go teach yoga, and it calms me down after a long week before going to hang out with friends," Watkins said.
Watkins has also liked the community yoga has given her. She is one of the youngest instructors at Black Swan Yoga, which means she has a lot of older mentors. 
"It's really awesome to have all different kinds of people who have all been in the same spot," Watkins said. "It's good to have people who have the perspective and an older opinion to help me if I need it."
One of Watkins's biggest challenges is creating her own sequences, which is the structure and order of the poses for the class. After she makes the sequence, she has to memorize it and then teach it. 
"Because I am teaching all different kinds of people, I need to be mindful of different body parts," she said. "Even though it is a lot more responsibility, I like [creating my own sequences] because I get to be authentic."
According to seniors Phoebe Spackman and Kiley Eckert, who have taken Watkins's yoga classes, Watkins has embraced her love of teaching yoga and is able to spread encouragement to the people who take her class. 
"She has such a positive personality and enthusiasm," Eckert said. "It's cool to see her use that personality through yoga to lift and empower others."
Yoga is something that is now very present in Watkins's life. She hopes to continue in the future and might keep teaching in college to earn money. 
"Yoga has impacted her entire life," Spackman said. "She has made serious changes to her entire outlook and I'm so proud of her for choosing a healthy lifestyle."
About the Contributor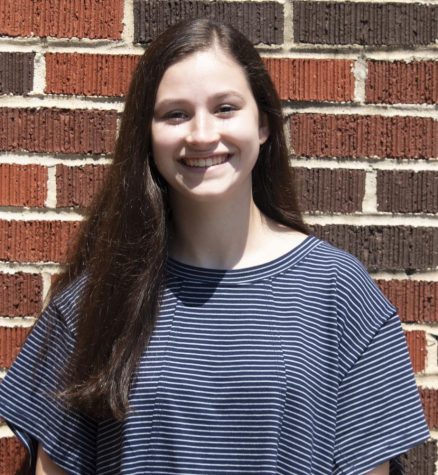 Juliet Richardson, Reporter
How many years have you been in newspaper?
This is my third year with the Bagpipe.
What are you involved in at the school?
CHOW club, National Honor Society, National English Honor Society, National Chinese Honor Society
What is your dream job?
Elementary school teacher
What is your favorite music genre?
Country