Junior's Local Jewelry Supports Environment
Mantra Jewelry uses profits for good
Wanting to give back to the environment, junior Nrithi Subramanian started Mantra, a jewelry company where all the money from sales goes to environmentally-based organizations.
After hearing about the devastating effects of the Australian bush fires on Instagram and other social media platforms, Subramanian realized there was an opportunity to make a difference and raise money for the environment.
"Instead of posting and just being vocal about it, I wanted to take action," Subramanian said. "I wanted to manifest my thoughts into physical actions."
The first thing Subramanian had to do was come up with how she was going to make the money.
"I knew I wanted to do a start-up, but I had to decide what would cater to people my age and what would be something that people are interested in," Subramanian said. "Then I came up with jewelry."
While she knew she wanted to create a company, she needed a name for it. One day while she and her mom were in the car, they had the idea to call it "Mantra". This Sanskrit word means positive vibrations and the resonance of the universe.
"I thought that was really suitable because the company is environmentally driven," Subramanian said. "The whole point is to create positive waves, or vibrations, in society."
In order to start Mantra, she needed a team of other like-minded individuals to help her who were just as passionate about the cause. She gathered a group of 11 other junior girls who each have different talents to add to the team. Charlotte Lassarat is one of these girls.
"I was drawn to Mantra because of Nrithi's obvious passion for giving back," Lassarat said. "I chose to join the Mantra team because it's supporting an amazing cause and I saw an opportunity for me to help deliver on the goals on Mantra."
To start the company, Subramanian needed money. With the help of Lassarat's mom, she had to prepare a business plan and present her ideas to a panel of local Dallas investors.
"That process was really hard," Subramanian said. "Initially I had to invest my own money that I had so I could make a profit, and I believed I could."
The team eventually decided to work with Southern Wealth, an investment advisory firm.
"We chose them because they were local and had an interest in our charitable outreach," Lassarat said. "Also, one of the investors is actually an alum of Highland Park."
Once Subramanian had the money, she and the Vice President of Mantra, Mary Mccue Bell had to narrow down the design and pricing for their jewelry.
"We cross-referenced other popular brands to see what they were doing and how we could make ours different but also have trendy styles," Bell said.
An important part of Mantra is making the jewelry sustainable by using little to no plastic. All of their packaging is biodegradable and reusable, and much is sourced locally instead of an online website.
"Nrithi actually makes almost all of the jewelry by hand and it's really impressive," Vice President of Mantra, Mary-Mccue Bell, said. "We have had some failed designs, but we were able to fix those really quickly during photoshoots. Eventually, she is going to teach me how to do it and then we will have a lot more products."
Subramanian hopes to expand the company and possibly make it her future. Her biggest goal is to continue to help the environment through her jewelry sales.
"I want to show people beauty doesn't have to be so wasteful," Subramanian said.
About the Contributor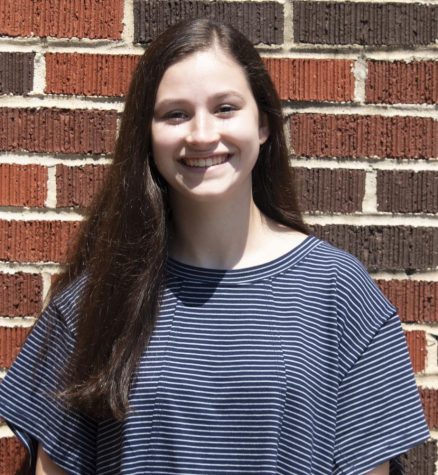 Juliet Richardson, Reporter
How many years have you been in newspaper?
This is my third year with the Bagpipe.
What are you involved in at the school?
CHOW club, National Honor Society, National English Honor Society, National Chinese Honor Society
What is your dream job?
Elementary school teacher
What is your favorite music genre?
Country