Review: Frozen 2 Perfect Sequel To Original
"Frozen" fans won't be disappointed revisiting world of Arendelle
Walking out of the "Frozen" movie theater at nine-years-old, I was craving ice power at my fingertips. "Let it Go" echoed through my brain on repeat. I could almost feel the power in the movie, the songs and the icy universe Disney had created. 
So when Disney released "Frozen 2," I knew I just had to see it. And I wasn't alone.
"Frozen" fans rushed to theaters on Nov. 22 for the release of the well awaited "Frozen 2" film, and it did not disappoint. According to CNBC, the film brought in $93 million over the five-day Thanksgiving weekend. However, "Frozen 2" made $127 million in its opening weekend in the US alone and $350 million globally. This puts "Frozen 2" third in line out of the top animated feature openings of all time. 
The plot of "Frozen 2" picks up in a peaceful Arendelle happily ruled by Elsa, with her sister Anna by her side. Elsa hears a singing voice she feels is calling out to her. She embarks on a journey to find what she feels is the truth about how she got her powers. 
There are also numerous subplots to keep the movie from feeling slow or too simple. Kristoff keeps figuring out the perfect way to propose to Anna; Olaf struggles with not being able to understand everything in life, and the history of Arendelle gets a deeper look. I enjoyed following along with these sub-stories, as I feel that they added to the story without overshadowing it. 
Like the first movie, much of the film is spent exploring the unknown. But unlike the original, "Frozen 2" follows Elsa as she ventures off by herself to investigate the mysterious calling voice. She must cross a dark sea alone, and relies on her ice powers and her personal strength to conquer ruthless waters. 
Anybody who has seen "Frozen" will never forget the iconic words of "Let it Go." The first "Frozen" movie had songs that were catchy and, in my opinion, some of the best Disney songs ever produced. 
The songs in "Frozen 2" were catchy, but I feel they did not come close to the incredible songwriting and vocals of the first movie. I did enjoy Olaf's solo, however. It reminded me of his solo in the original "Frozen." However, the plot of "Frozen 2" was far more interesting to me than the songs, as it uncovered mysteries of the past that were unknown in the first movie. 
"Frozen 2" was a phenomenal movie. It had suspense, mystery, comedy and well-placed songs. I would definitely recommend this movie to anyone, as I feel it was a perfect follow-up to the first Frozen film. 
About the Writer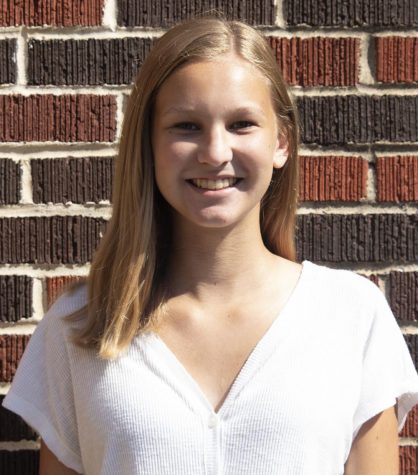 Chloe Haag, Reporter
How many years have you been in newspaper?
This is my first year with the Bagpipe but I also was on the middle school's newspaper staff.
What is your dream job?
My dream job would be an interior designer because I love finding colors and designs that go together.
What is your favorite ice cream flavor?
Coffee
What do you do in your free time?
I like to bake, write and play with my dog.