Review: Top Five Thrift Stores Near You
an in-depth look at resale stores in the Dallas area
In this day and age, thrifting has become very popular. I for one, love to thrift. You can find so many cheap and cute clothes. The problem is, what stores do you go to? 
 Genesis Benefit Thrift Shop (3419 Knight St.):
In terms of location, this is one of the most convenient thrift stores to get to. This store is one of my favorites because if you really put some time and effort into digging through all the racks of clothes, you can find some great hidden gems. 
The only problem I have with this store is that the clothes aren't really categorized at all, everything is kind of just pushed together.
"When I went there it was kind of unorganized and difficult to find stuff, but they have really good prices and cute clothes," freshman Megan Hurt said. 
They are definitely one of the cheapest thrift stores on this list, but still have very high quality products. 
Uptown Cheapskate (5400 Mockingbird Lane): 
Uptown Cheapskate is by far the most convenient in location if you live in University Park. This store is more of a "second hand designer apparel" type of store than a regular thrift store. They have a wide array of name brands, including Free People, Urban Outfitters, American Eagle, and Micheal Kors. 
Whenever I walk in there, I know I'm going to find something good. SMU students sell their clothes to them, so you can be positive you'll at least find some cool oversized t-shirts. The only downside about this store is the prices are a little higher than your average thrift store, but the quality of the product is worth it. 
"Our lowest price is probably around $2.99, and our highest price is around $900," Uptown Cheapskate employee Emily Sherrell said. 
Uptown Cheapskate does take donations, but they buy most of their products from people. "When we do get donations the money we would have given them to buy the clothes goes to a charity called Arms of Hope," Sherrall said. 
Dolly Python (1916 Haskell Ave.):
Dolly Python classifies as a vintage and antique store, but there is an abundance of adorable clothes you can find. Along with the amazing clothes, they have a large selection of knickknacks and decor for your home. 
The only flaw with this store is the prices are much higher than any of the other stores. While your average thrift store sells a shirt for approximately $10, at Dolly Python there were shirts as expensive as $75. The clothes are fairly well organized, and the employees are super helpful and attentive. 
If you aren't digging the clothes they have, you can explore the antique side of the store to find something eye-catching. Even though Dolly Python is a little bit out of the way, it is definitely worth checking out. 
Thrift Giant (3039 Northwest Highway): 
This is my least favorite out of all the stores, mainly because of location, and the overwhelming amount of clothes. It is also quite crowded, no matter what time of day you go. 
"I'd say we get about 1,000 customers a day," Thrift Giant employee Hugo Bengal said. 
Along with all of those customers, there are almost just as many donations per day, which can make for an overwhelming range of options. If you are willing to take some time out of your day to dig through the multitude of clothing racks, you can find some great clothes, but it does take plenty of searching. 
A benefit to shopping here is some of the proceeds go to charities like Operation Kindness, Child Care Group, The Ronald McDonald House and Hope Supply Co. 
Buffalo Exchange (3424 Greenville Ave.): 
This store is another convenient location for those who live in University Park. It is also just a block away from Uptown Cheapskate, so you can hit two birds with one stone and not have to go running all over Dallas to other stores. 
This is most definitely the best organized out of all the stores. It was very easy to find what I was looking for, and there were some recognizable brands scattered throughout the store. 
The cool thing about this store is that you cannot only sell or donate, you can also trade; hence the name "Buffalo Exchange". The employees are very nice and it is overall a wonderful store to check out. It wasn't terribly crowded, which is a huge bonus when it comes to thrifting. 
About the Contributor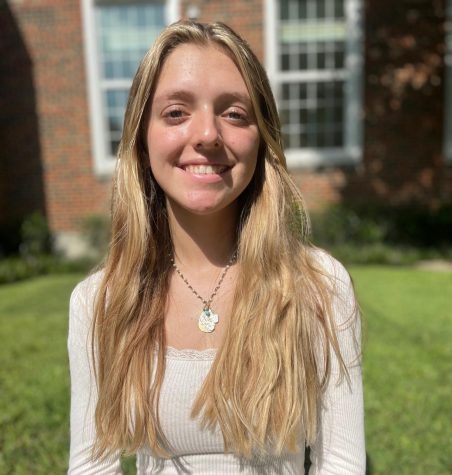 Sarah Small, Managing Editor
What are your top 3 favorite bands/artists?
She likes
Led Zeppelin, Nirvana and Sublime. 
Does she have any pets?
She has the cutest dog named Bailey. 
What is your favorite news source?
Her favorite news source is NPR.