Review: Kanye's "Jesus is King" Album More About Himself Than Jesus
Kanye's new album has some bright spots but ultimately falls short of expectations
After a long wait, award-rinning rapper Kanye West, who has sold 21 million albums worldwide, finally dropped his new album titled "Jesus is King."
Initially, Kanye was working on a different album, titled "Yahndi," but Kanye abandoned the project after taking too long, restarting again with "religious awakening." Pitchfork rated it 7.2 out of 10 and Metacritic rated it a 56. "Jesus is King" aims to be a gospel album about Kanye's awakening with God.
"I'm only afraid of God," Kanye said. "I'm only afraid of my daddy."
In the past year or so, Kanye has been in the news pretty frequently and not always in a positive light. He stirred up some controversy when he gave a pro Trump speech at the end of the popular sketch comedy show "Saturday Night Live" on Sept. 29 of last year. He has also said controversial things, such as slavery being a choice, and then afterward using a fake Harriet Tubman quote to clarify his remarks.
But that's not what "Jesus is King" is supposed to be about, right? It's about Kanye's religious awakening as a new christian man with a gospel album and a short film as evidence. And it definitely starts out as a gospel album. The intro to the album, "Every Hour," is a great song sung by the "Sunday Service Choir." It's not the best track, but it's a great intro to a gospel album, setting the tone.
Next is "Selah," which is the second best song on the album. The choir is brought back to assist the chorus as Kanye finally starts to rap about his faith. He references bible verses, such as John 8:33, which is about not being enslaved, and it is a great blend between good gospel music and Kanye's rapping/singing style. 
Then we get to "Follow God," which is another good track and my personal favorite on the album. The track starts with a soloist from the choir singing about God before Kanye starts rapping with the soloist to a beat serving as the backing track. My only problem with it is that it's too short. 
"Closed on Sunday" is an ode to popular chicken sandwich chain Chick-fil-A being closed…on Sunday. It has a mediocre start but ends well. Then we get to "On God." 
"On God" is a good representation of the whole album. The backing is ok. It's a repetitive electronica sort of beat that fits decently with the rap verses. The actual rap is interesting, and not in a good way. Kanye starts out talking about God, but as the verse continues, instead of talking about what the album is supposed to be about, God, he talks about himself. 
"That's why I charge the prices that I charge," Kanye said. "I can't be out here dancing with the stars, No, I cannot let my family starve." 
This is referring to Yeezy, his popular shoe brand. In this verse, he claims that if he lowers the price of his shoes he'll either have to starve or *gasp* go on "Dancing with the Stars"  (a show that many washed up celebrities end up hosting).
Next is "Everything We Need," which is fine. He brings back the choir and popular rappers Ty Dolla $ign and Ant Clemons. It's a good song that mixes gospel elements with rap  and serves as a good collaboration between Kanye and the two other artists.
 "Water" is sort of just there. It's not the worst track on the album, but it's not that good either. Ant Clemons and the choir sing on it, which is pretty good, but Kanye just randomly sort of butts into it and goes into a ballad about Jesus. It kind of ruins what might have been a highlight of the album.
"God Is" is a great song because it's an actual solid gospel song with Kanye singing along with the choir. It's one of the best tracks on the album, and it's a breath of fresh air after the last three tracks.
"Hands On" with musician Fred Hammond is next, and it is hands down the worst track on the album. In the song, he references the 13th amendment (he mentions it in "On God" too), and goes on a rant about how the Christians hate him and that they'll be the first ones to judge him. There is little to no gospel elements, and it's less about God and more about himself versus the Christian community that apparently hates him. This song directly opposes what the album is supposed to be about.
However, the next song is the best of the album. "Use This Gospel" is the best at taking gospel elements and mixing them with a great Kanye song. It was originally based off of a car alarm, and he gets the rapping group Clipse back together to join him for some great verses. He even puts a really well placed saxophone solo at the end.
"Jesus Is Lord" is the outro of the album, and it's sort of just there to be an outro. It's 49 seconds long, and it's just Kanye talking about Jesus with a random backing track.
Overall, "Jesus is King" is definitely not one of Kanye's best, as he attempts to make a gospel album only to end up talking about himself and his past controversies more than he talks about Jesus, which leads to the album being at times just a boring rant. 6/10.
About the Writer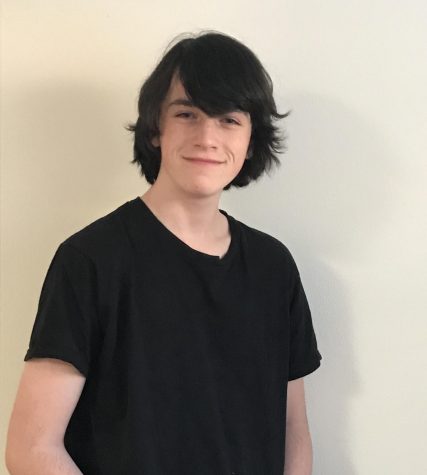 Zach King, Reporter
What is his dream job?
His dream job is to be a screenwriter.
What is his go-to news source?
His go-to news source is the LA Times.
What is his favorite music genre?
He listens to all kinds of music.