Coyote Killings Inspire New Law, Allowing City To Take Action
new law allows Texas cities to do something about coyote sightings
Thirteen-year-old black poodle, Nixon, went outside to go to the bathroom about 9 p.m. Jan. 23 and never came back.
 "He was older, and he didn't like the cold," said Lindsay Ballotta, Nixon's owner and a Highland Park mom. "He would always come back in immediately."
About five minutes later, Ballotta and her husband began to wonder where Nixon went. They heard their daughter scream. She saw a coyote run across their yard. 
"I found Nixon in my next-door neighbor's yard, and a coyote had killed him," Ballotta said. 
Ballotta mentioned that the lowest point of their yard's fence is five-and-a-half feet, but they guessed the coyote got in through a gap in their gate. 
"We were not aware they had the ability to gain access to a fenced-in backyard," Ballotta said. 
Less than a week after Nixon's death, Ballotta spoke at a city council meeting.
 "I explained what had happened and asked for them to take some sort of action," sage said.
Throughout the process of losing her pet and communicating with the city council, Ballotta said she learned community government holds little power over the local coyotes, so she reached out to state representative Morgan Meyer. He worked with Ballotta and another coyote victim to take action to change the law that is keeping communities from having control over their local coyotes. 
Now, a new law states cities with a population density of more than 2,500 people per square mile can capture, relocate or euthanize a coyote within the city. The city can also request assistance from Texas Wildlife Services to do so, according to Texas House Bill HB 4544.
Ballotta is still devastated by the loss of her dog but is glad to see change has come from the tragedy.
"As you can imagine, [losing a pet] was absolutely heartbreaking," Ballotta said. "It's terrifying that could have been a child."
Stories like Ballotta's are becoming more frequent. Over the summer on July 10, Park Cities resident Becca Wilk's cat was let out by her cousin, who was cat sitting. She describes her cat as consistently indoor-outdoor, meaning he would go out and come back in at the same time every day. Her cat never came back inside after that. 
"I spent hundreds of dollars on flyers and website [advertisements]," Wilk said.
Her cat was a bengal, and Wilk described him as a strong fighter.
"He never, in six years, failed to come home," she said. "It's clear that a coyote got him." 
Wilk also mentioned that before her cat went missing, she had not heard much about coyotes taking peoples' pets. 
"It could happen to anybody," Wilk said. 
Not only was her cat taken, but she has seen coyotes around the neighborhood. 
"I've seen three [coyotes] before at night together, just wandering the streets looking hungry, which was really disturbing," Wilk said. 
Park Cities resident Stephanie Magilow also observed coyotes while running during the middle of the day on Armstrong Parkway at 10:30 am. 
"We see them on a regular basis as we're walking our dog in the evening," Magilow said. "I don't think that they belong in a residential area. I think it's a matter of time before they hurt a child." 
Coyotes' mating season is from January to February, and during this time, they become more active and aggressive. From April to August, coyotes have their pups and are more likely to hunt in order to feed them. 
The city now has a public system in place to report coyote sightings in order to identify the possible den locations. The form is available on the town of Highland Park website.
Community members must educate themselves in order to keep their families and pets safe from coyotes. When coming across a coyote, it is important to make yourself appear larger by spreading your arms and standing tall. Make loud noises, and look directly at the coyote. When with a pet, be sure to keep them very close. The town website also refers to the DFW Wildlife Coalition for more information about coyotes.
About the Writer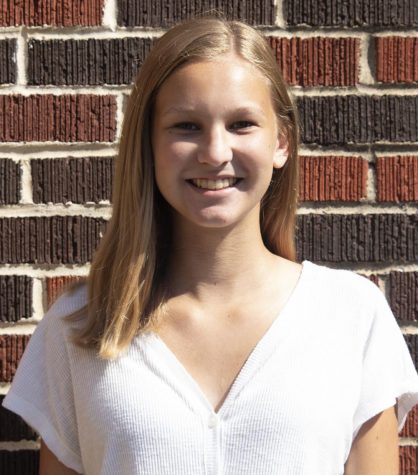 Chloe Haag, Reporter
How many years have you been in newspaper?
This is my first year with the Bagpipe but I also was on the middle school's newspaper staff.
What is your dream job?
My dream job would be an interior designer because I love finding colors and designs that go together.
What is your favorite ice cream flavor?
Coffee
What do you do in your free time?
I like to bake, write and play with my dog.