Organization Supports Homeless With Shelter, Art Program
The Stewpot celebrates 50 years of community outreach.
From hot soup to scholarship funds, The Stewpot has been a safe haven for homeless and at-risk individuals for over 50 years.
"We try to take care of the whole person including the creative part of the artist's soul, imagination or heart," Director of Enrichment Programs Betty Heckman said.
The Stewpot is an organization that provides food, shelter and supplies to those in need within the Dallas area. The programs included within The Stewpot provide people with the necessary tools it takes to be successful in both their personal and professional life. In addition to basic necessities, The Stewpot also provides scholarships, groceries, housing, classes, and creativity outlets.
The Stewpot began as a soup kitchen established in 1975 by the First Presbyterian Church and has grown to become a prominent organization in Dallas to help the homeless as well as low-income families. Executive Director Brenda Snitzer emphasizes that while the organization started out of a church, they do not require religious participation in order to receive services.
 "We are a big hub of different social services and we are interested in the whole person," Snitzer said. "We also do enrichment programs and we have spiritual support if people want that, but they don't have to be a member of the church or anything like that to get our services."
Originally, The Stewpot served soup out of the church, but as it has become recognized throughout Dallas, the organization has developed several different programs including a food recovery program which provides hot meals to people in need. This provides The Stewpot clients with fresh and nutritious food that they can enjoy.
"
One of my favorite things about The Stewpot art program is the camaraderie that the artists build from being inspired by one another,"
— Betty Heckman
"People like this program because not only does it help feed people, but it keeps food from going to our landfills," Snitzer said, "Restaurants, grocery stores, schools and all kinds of places that make food a lot of times overbuy and those locations will call us and we will go pick up that food."
The Stewpot also assists students K-12 by having them participate in education outlets provided by the organization. On Wednesday nights, middle-school and high-schoolers can receive homework assistance, explore careers they might be interested in and participate in other fun, education-related programs. On Saturdays, elementary school students can receive help with their school work and during the summer there are all-day programs. Scholarships up to $10,000 are also awarded to those who are eligible. 
"We actually have one young woman that's at Harvard this year and she's a first generation," Snitzer said.
The Stewpot also provides an art studio and writing classes for those interested in the arts. According to Snitzer, about 30 years ago, local artist Pamela Nelson brought art supplies over and asked if she could make art with the people at The Stewpot. This eventually evolved into the organization's own art program.
Once a month, Heckman takes the artists to the Dallas Museum of Art to study and observe the classic works in the museum. The artists are able to create their own pieces and then sell them for commission through The Stewpot. The artists' work with The Stewpot are also featured in events around Dallas including art shows and an art gallery featured on the DMA website. 
"Some of them work on commission and some of them just sell their art speculatively but they are able to sell their art and earn an income," Director of Philanthropy and Engagement Jana Shafer said.
The creativity that stems from the art program inspires members of The Stewpot community and brings and celebrates the talent of the artists to the public. 
"One of my favorite things about The Stewpot art program is the camaraderie that the artists build from being inspired by one another," Heckman said. 
Heckman says she loves seeing how the artists are able to find a creative outlet and express themselves in different ways. Heckman herself collects their art to decorate her house. 
"I think what makes me the happiest is seeing the fulfillment that an artist gets after they paint something, complete it and hang it on the wall," Heckman said.
Another creative aspect of The Stewpot is the local Street Zine newspaper that members of The Stewpot write articles for and previously sold around Dallas. Due to the pandemic, the paper is now only digital. The magazine can be accessed online and past issues can be viewed there. The Stewpot writers have classes they can take in order to perfect their articles to be published in the Street Zine.
"Our clients contribute to that magazine and they get paid for each article that they contribute to, so they can earn an income doing that as well," Shafer said.
As well as the arts, The Stewpot also has various programs that help support low-income and unhoused people. One of the prominent programs is the providing of IDs to people who have lost or are not able to access their drivers licenses, birth certificates or social security cards. 
"They started an ID program because if you didn't have your state ID, your social security card or your birth certificate, you couldn't get a job and you couldn't get housing," Snitzer said.
Through its use of various programs, The Stewpot gives back to those in need and inspires the community of people involved. The Stewpot is a positive resource that connects people and brings them together to help support those in need.
"The trauma these individuals have experienced, whatever it is, addiction issues, a loss of a spouse, a mental health crisis that goes unchecked- it gets pretty deep," Heckman said. "[And then] to see beautiful things [created] everyday, I'm inspired."
About the Contributor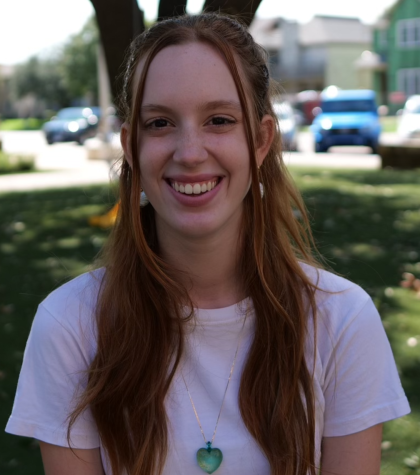 Chloe Nugent, Reporter
What is your favorite dessert?

Peach cobbler

Top 3 bands...

Tyler the creator, Frank Ocean and Lana Del Rey

What is your favorite way to relax?

Watching a romance movie