Girls Varsity Soccer Ends Season At Regional Finals
After win against Cleburne, team loses to Wakeland
The Lady Scots finished their season in the regional final against Wakeland on April 9. Their record was 23-1-2 and they were titled district champions, bi-district, area, regional quarterfinal and regional final finalists.
The Lady Scots soccer team won 3-2 against Cleburne High School in their playoff game on Friday, Mar. 26, allowing them to progress to the next round in the playoffs. 
"In the playoffs, everyone plays a little bit harder and just because the stakes are so high, everyone plays better," midfielder Hattie Patterson said. "We didn't go in expecting to win that easily." 
In each playoff round the team must win each game or their season is over. Coach Aaron McGough believes it's important to keep this in mind while playing. 
"You might go into a game as prepared as you can be, but you always want the players to understand that everything's on the line," she said. "No matter what we think might happen we still have to earn it."
The game began in high spirits for both sides as midfielder Ella Weathersby took a shot on goal which was blocked by opposing goalie Karyme Garcia.
Forward Kate Krejs dribbled the ball downfield only to have a flag thrown after making a collision with the opposing defensive midfielder Emily Lares. Not too soon after, Krejs was driven off the field due to the injury she had received.
After a few more standoffs, forward Kylie Bell scored the game's first goal.
"
You might go into a game as prepared as you can be, but you always want the players to understand that everything's on the line."
— Aaron McGough
In an attempt to follow up, Cleburne's forward Taytum Rosette set up their defensive forward Samantha Vesely with a shot which ended up barely missing.
The ball was then slowly dribbled down the field and after a series of successive passes was kicked from defender Elise Needleman to Bell who tapped it into the net for their second goal of the game.
Right before half time, Needleman made a long pass to midfielder Morgan Williams feeding their third goal.
The second half started off slow as the ball shifted sides rapidly and neither team could seem to get a clean shot lined up. However, soon the team took the stage again as forward Hattie Speicher, Bell and midfielder Elise Borders each scored a point for the team.
"We started the second half really strong," Patterson said. "I would say we scored within the first two or three minutes and then had another three goals that followed shortly after that."
To their surprise, though, Cleburne's Isabel Vasquez managed to sneak in a point, breaking the team's seemingly unstoppable streak.
There were three minutes left on the clock and it seemed as if the Lady Scots were going to take home the win. Just before the clock ran out, midfielder Atty Meyer made a longshot to end the game.
The team was pleased with their success, but say their journey isn't over yet. 
"I think we have worked very hard for this and we're still taking it one game at a time," Weathersby said. "We all know what we have to do and we're all on the same page and how we're going."
About the Contributor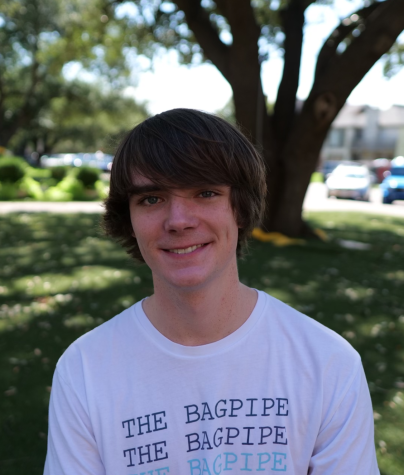 Will Gaffey, News editor
Top 3 bands...

Sublime, Beck and Red Hot Chili Peppers

If you had to be stuck on an island with a celebrity, who would it be?

Benedict Cumberbatch

What do you like to do to relax?

Lay down next to the window on the bench in my room with my cat