Review: Scottie Joe's Brews Up Delicious Beverages
School coffee shop serves quality drinks with uplifting atmosphere
Taking just one sip of my morning coffee can help me get through the unbearably long school day. 
However, I can't make a Starbucks coffee run every day. The solution is Scottie Joe's, the school's coffee shop. 
Walking up three flights of stairs is a hassle to find this hidden paradise. However, if you decide it's worth the hike, you'll appreciate how Scottie Joe's atmosphere separates itself from the rest of the school.
The area is empty during class time but can get pretty busy during the passing periods. It executes a great balance of decor and empty space, and has a chill modern vibe. Also, the sunshine yellow decor and blooming plants that decorate the bar will brighten up your day.
Adding to the atmosphere are the friendly servers, who will strike up a conversation and give you fist bumps while handing you an iced coffee.
The first drink I tried was the iced white mocha. It offered unique hints of vanilla. It vividly reminded me of Starbucks whipped cream, which was not the taste I was expecting, however it was not a bad surprise. The mocha part of the drink is just like any coffee you can imagine, not too sweet with the classic bitter taste.
On a scale of one to 10, I would give this drink a solid eight. It is the perfect replacement for the iconic yet absurdly expensive Starbucks iced white mocha.
The next drink on the menu I indulged in was a Scottie Palmer. A Scottie Palmer is just like an Arnold Palmer: tea and lemonade.
The crisp, sour lemonade blended well with the classic peach sweet tea flavor without being overpowering. Although the drink was delicious, I am a coffee fanatic so the Scottie Palmer wouldn't be my go-to drink.
Next up is the cold brew. The cold brew has the very signature, rich coffee smell as well. It is extremely strong and wakes you up immediately. It tasted dark and perfectly bitter, with an extremely potent flavor that I think all coffee should have. 
Even though I enjoy many types of coffee, regardless of the weather outside, I have a bias for cold drinks. I can chug them at light speed, whereas hot drinks require small sips to be bearable.
Despite this, to me, the hot chocolate at Scottie Joe's is like a dream. I am on #teamchocolate right now. Just a whiff of it smells like warm goodness and makes my mouth water.  It tasted like a half melted Hershey's bar dipped into a glass of warmed milk. It had the signature taste of silky chocolate, and it didn't make me thirsty afterwards.
While the hot chocolate was exceptional, the decaf mocha was underwhelming. Granted that I typically don't enjoy decaf coffee, the drink lacked flavor and tasted like I was drinking a coffee made of 89% water. Compared to all of the other phenomenal drinks from the school's coffee shop, it just tasted fake.
All in all, I would recommend Scottie Joe's to anyone. I have a wonderful experience every time I stop by. Even with their rather petite menu, they have a variety of options to satisfy whatever cravings I have that day.
I cannot wait to see the future for Scottie Joe's, and if they make any additions to their menu, you can expect to see me first in line.
About the Contributor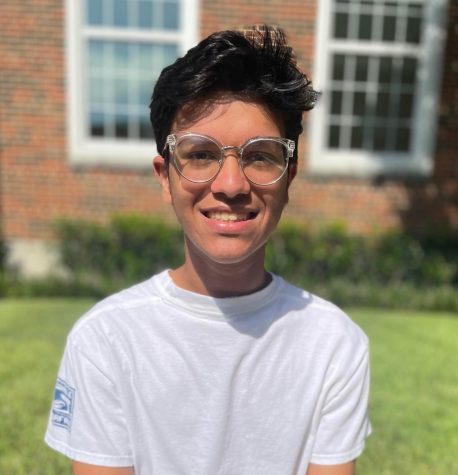 Alex Justine, Reporter
What are his favorite desserts?

His favorite desserts are frozen yogurt and s'mores.

What is his favorite news source?

His favorite news source is The New York Times.

Why did he join newspaper?

He really like to write, and he wants to write controversial stories.