Race to End Racism Forum Sparks Deep Conversation
Student leaders gather to discuss problems, solutions regarding racism
The Student Council held a forum with 20 other schools from the metroplex to have conversations about various conflicts students have faced regarding racial prejudice on Feb. 15 at Park Cities Baptist Church.
"[It's] a great way to gain perspective about discrimination," junior Liv Grant. "I went into it eager and excited to learn about the individuals at my table's stories and their own experiences."
Each student council member was given a table to lead. Seven to eight students from different schools sat at each table and were led in an introspective conversation that dug deep into the root of the racism they've faced.
"At my table I started off by saying, 'I just want to let you know that we're going to be unpacking some heavy things today and I just want to tell you that all of our opinions are valued. If you don't want to go into something deep, you don't have to,'" senior executive president Chloe Walsh said.
Each student council representative was in charge of asking thought provoking questions. Students would go on to talk about their own stories and share scenarios of discrimination in their school. 
"I had a sophomore girl," Walsh said. "She said that she wasn't going to say the exact words that were said to her, but she said that one time she was made fun of because of her race."
The goal of the discussions was to make people slightly uncomfortable and help them to see the benefits of having an open discussion about difficult subjects. As the day went on, students became more and more at ease with sharing their personal experiences. 
"It was really great seeing everyone becoming comfortable with being uncomfortable about these tough subjects that are being discussed," Grant said. "As time went on they themselves also became passionate about knowing and wanting to implement change.
Keynote speakers were also present to fuel the discussions. Among the speakers was personal and professional development coach Will Baggett.
"
Being uncomfortable makes you stretch. It makes you think."
— Will Baggett
Baggett had the group perform an activity involving cards. He'd invite people on stage and give them a card that was either a royal card or a number card. The volunteers were unaware of which card they had and audience members would applaud those with the royal card and boo those with the number card. Then, volunteers would see which card they had been given. 
Senior Katherine Anne Massey explained the purpose of the activity was to highlight the importance of how others see individuals in terms of privilege and perception, which was Baggett's conversation topic.
"It was a way to show that you don't know what cards you will be dealt," she said. 
Another activity had students answer yes or no on a form that was passed out.  
The questions included 'has anyone ever felt discriminated against?' and 'has anyone been made fun of because of their name?'
"We read the questions out loud and if you answer yes then you would stand up," Massey said. "It's a visual to see how many people have been effected [by discrimination]."
Furthermore, Baggett spoke about the importance of listening and being unbiased towards people you don't know.
"It takes seven seconds to form a first opinion impression and he told us to be more interested[in others] before being interested [in yourself]," Walsh said. 
Baggett wanted to spark students' minds at the forum and encourage them to see the intellectual benefits of being uncomfortable. 
"Being uncomfortable makes you stretch," Baggett said. "It makes you think."
About the Contributor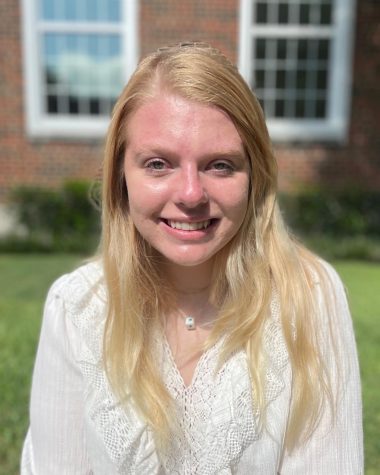 Reese Greenlee, Web Editor-in-Chief
What is her go-to Starbucks order?
Her order is an iced soy milk latte with caramel.
What are her favorite news sources?
Her go-to news sources are Vice News and The Economist. 
What is her favorite dessert?
Her favorite dessert is c
ookie cake.